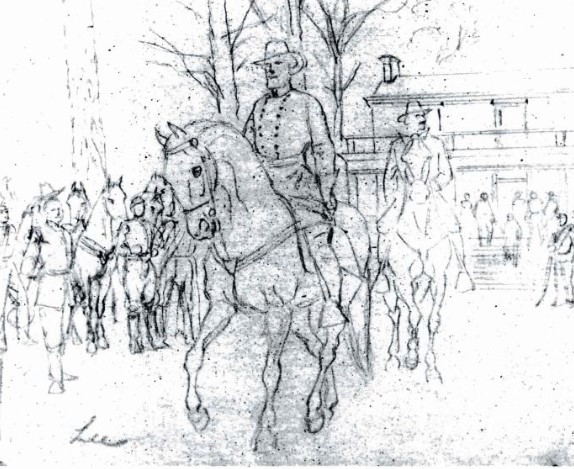 By Michelle Myers
Out of all those involved in the Civil War, one of the most storied wasn't a person but a dapple gray horse named "Traveller." This was Robert E Lee's most beloved war horse and he came from Greenbrier County.
Foaled in 1857 on Andrew Johnston's farm near Blue Sulphur Springs, the colt, then named Jeff Davis, was special right from the start. Jeff won first prize three years in a row at the Lewisburg fair, and by the spring of 1861 was on detail duty with his rider Captain James Johnston on Big Sewell Mountain during the Western Virginia campaign.
Lee first set eyes on Jeff who was standing under a tree on the Midland Trail. Lee immediately sought to purchase him from Captain Johnston. Jeff had been promised to Captain Joseph Broun however, was sold to him for $175 and renamed "Greenbrier". Undaunted by the sale to Broun, Lee persisted in his quest to own the horse. The effort paid off and he bought Greenbrier for $200 in the spring of 1862, renaming him Traveller.
And although he had other mounts – "Richmond," "Brown Roan," "Ajax," and "Lucy Long" – Lee simply doted on Traveller who was "the only one who retained his vigor." (Lee preferred the British spelling of the name with an extra "l") Lee also extolled Traveller's physical attributes, describing him as having "fine proportions, muscular figure, deep chest and short back, strong haunches, flat legs, small head, broad forehead, delicate ears, quick eye, small feet, and black mane and tail."
Good looking as Traveller was, he had a difficult personality, high strung, a bit unruly and jiggy. It was said that Lee's men often had to push him away from the front lines for Lee's protection although Traveller always wanted to be right up there. Lee's son, Robert Jr., did not find Traveller to be a comfortable ride complaining that the horse would not walk a step, instead taking a short, high trot, keeping it up for thirty miles and making Robert very glad to reach his destination.
Nevertheless, Lee adored Traveller who carried him in major battles throughout the Civil War. Ironically, the only serious accident the general suffered during that time did not take place in battle but instead was a result of Traveller's jumpy nature. It was the day after the second battle of Manassas and Lee was trying to catch Traveller who was untethered and startled by something. Lee slipped in the mud and broke several bones in one hand and sprained the other, the injuries putting him out of commission for about six weeks.
When the end came, Traveller was there too for the surrender at Appomattox. A man named Alfred Rudolf Ward, who was present at the occasion, sketched Lee and Traveller leaving the Wilber McLean House. An almost prancing Traveller dominates the picture.
The immediate post-war years were quiet for Lee and Traveller. Lee had accepted the post of President of Washington College (now Washington and Lee University) in Lexington, Virginia. A student remembered that Traveller had the run of the front yard of Lee's house on campus and that Lee frequently talked to and caressed the horse before entering the house.
But even in retirement Traveller never lost his independent streak, once taking off on his own after becoming untethered. Pursued by a number of boys and men, he simply increased his speed until Lee stepped in and gave a low whistle that brought the horse right back to him.
Lee died in 1870 following a stroke and Traveller less than a year later as the result of a tetanus infection. Both are interred in the grounds of Washington and Lee University. Traveller's bones were dug up in 1907 and his skeleton mounted and exhibited at the university. Following years of damaging graffiti by the students (apparently there was a belief that flunking was impossible if one's name was written on the bones), Traveller's remains were reinterred in 1971.