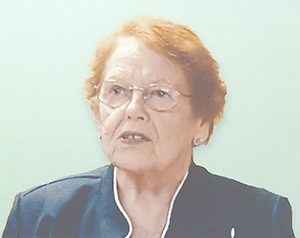 Town-Samuella Labelle Shawver Lewis, 91, formerly of Alderson, passed away on Saturday, Dec. 25, 2021 at her home in White Sulphur Springs, following a short illness.
Born Nov. 16, 1930 in Rainelle, she was the daughter of the late Alva "Red" Shawver and the late Hazel Rider Shawver.
In addition to her parents, she was preceded in death by her husband, Hobert Lewis; one daughter, Drema Kay Lewis; one son, Gary Reese Lewis; and two brothers, Richard Shawver and William Shawver.
Mrs. Lewis was a retired bookkeeper having retired from Greenbrier Valley National Bank in Alderson after 25 plus years of service.  She was a 1948 graduate of Nuttall High School, Lookout, WV, where she loved to sing and was a member of the All State Choir. Mrs. Lewis attended the Johnson Memorial United Methodist Church in Alderson and was a member of the Alderson Chapter No. 119 Order of the Eastern Star. She enjoyed painting and loved to write short stories and poetry. Mrs. Lewis loved to spend time with her family, especially her sister Nancy.   Where you saw one, you always saw the other.
Survivors include four children, Craig Lewis and wife Brenda Lewis of Alderson, Dinah Lewis King and husband Elvis "Buddy" King of Dallas, GA, Mark Lewis and wife Carolyn Lewis of Forest Hill, WV, and Lisa Lewis Stacy and husband William "Bill" Stacy of White Sulphur Springs; one brother, Keith Shawver of Morganton, NC; one sister, Nancy Shawver of Fairlea; three granddaughters, Jennifer King Welton, Sarah Stacy, and Jennifer Stacy Taylor; three grandsons, Jason King, Adam Lewis, and Luke Stacy; 10 great-grandchildren; special friend and caregiver, Becky Navarro of Narrows, VA; and several nieces, nephews, and cousins.
Graveside services and burial were held on Thursday, Dec. 30, at the Alderson Cemetery in Alderson, where the Rev. Sam Groves officiated.
Family and friends served as pallbearers.
Online condolences and memories may be shared with the Lewis family at www.lobbanfh.com.
Arrangements by Lobban Funeral Home, Alderson, WV.