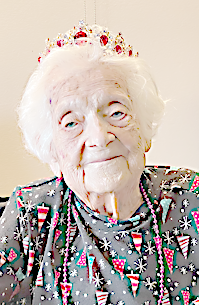 Ronceverte-Rebecca Louise Harrah Utterback, 108, passed away Friday, Dec. 17, 2021 at Stonerise Health Care Center in Ronceverte, WV.
She was born Mar. 18, 1913 in Blue Sulphur Springs, the daughter of the late Jesse and Emory Harrah and the wife of the late George Utterback.
She was preceded in death by her son, Mark; two sisters, Leah Fawcett and Alice McMeans; brother, James Harrah; and a dear niece, Elda Montgomery.
She is survived by three nieces, Sharon Morgan and Debbie Albertson, of Fairmont, WV and Evelyn Drake of Nashville, TN; two nephews, Terry and Tim McMeans; and several other nieces and nephews.
A graveside service will be held at The Old Greenbrier Baptist Church Cemetery in Alderson, on Tuesday, Jan. 4, 2022 at 11 a.m.
Wallace & Wallace Funeral Home in Lewisburg is in charge of arrangements.
Please send online condolences by visiting www.WallaceandWallaceFH.com