By Lyra Bordelon
Nearly $750,000 worth of grants were brought to the town of Rainelle during a presentation by Governor Jim Justice on Monday, November 2. Focused on getting sidewalk repairs and replacements, as well as the installation of three new generators around town and at the water plant, the town will now be able to make major repairs..
"The largest of all the grants, the biggest of them all, we're bringing to Rainelle and that's $500,000 for the Rainelle Streetscape Phase II," said Justice. "We will fund and design the sidewalk replacement in downtown Rainelle. Congratulations to Rainelle, congratulations to all of you."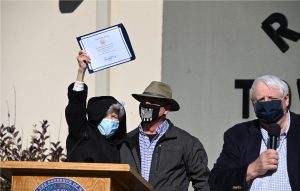 After the Town Council voted to accept the resignation of Mayor Jason Smith in a meeting earlier that day, Acting Mayor Bill Bell was joined by former mayor Andrea "Andy" Pendleton and councilmembers John Wyatt and Danny Milam.
The funding comes as part of the West Virginia Transportation Alternatives and Recreational Trails Program (TARTP) grants program, which helps towns and cities build and improve sidewalks, lighting, trails, and more. The program is administered by the West Virginia Department of Transportation and funded by the Federal Highway Administration.
"We just got a second round of grants for our West Virginia Alternatives and Recreation Fields program grants," Justice explained. "When we got those grants, [a week ago today], we just looked at all the different places we could go and to get them out as quick as we could. … Back in June, we got $7.4 million that we gave away in grants. These grants are administered by our highway department and funded by the federal highway department. … Last Monday we got $8.6 million for a little excess of $16 million."
"This grant is the result of a lot of hard work by so many great people with grit and determination and persistence," Gov. Justice said. "It's the same hard work that enabled the town to receive a major grant from FEMA as well."
Justice announced a separate federal grant award, worth $277,716 from the FEMA Hazard Mitigation program, to fund the purchase and installation of three generators in Rainelle; one at the water plant, one at the substation, and one at the town hall / police department building.
"All the people here were able to finally get this HMPG for three generators that are coming right here," Justice said. "One in the town, two for the water plants, and that was a total of $277,717. I know Andy especially worked really hard on this, lots of people did, and so it's good stuff."
Pendelton thanked Justice during the presentation.
"Thank you, Governor Justice, for coming here today to Rainelle," said Pendleton. "You have been the powerhouse of West Virginia. You have been the best that we could ever ask for. Governor Justice, we love you so much."
Justice returned the compliment.
"Andy and her family and I go back a long, long ways," Justice said. "I can't believe she's called me Governor and Jim, because she's always called me Jimmy, and Jimmy is good enough for me."