By Lyra Bordelon
Sirens, police, fire trucks, and the sight of "injured people" around the Greenbrier Valley Airport on Friday, October 30, might have caused alarm for some in the Greenbrier Valley, but didn't cause a panic for emergency responders. The incident was part of the airport's triannual safety and emergency training for what to do if an aircraft crashes at the airport.
The training, required by the Federal Aviation Administration (FAA), brought together the airport's police and firefighting staff, the Greenbrier County 911 Center, Sheriff's Department, Lewisburg Fire Department, and White Sulphur Springs Emergency Medical Services for a in-real-time training for how the county would respond to a crash on airport property. Airport Director Brian Belcher and 911 Center Director Mike Honaker explained what their staff responded to.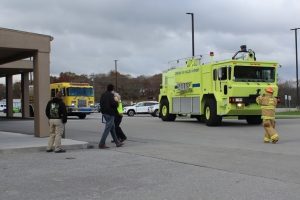 "[The aircraft was] an inbound passenger aircraft that was having mechanical issues and was ten minutes out," Honaker said. "There were 40 passengers on the aircraft, 400 pounds of fuel, and with the engine problem, that's the first bit of information that goes out. … Obviously that could go really well or really bad, depending on how bad the engine is."
"Anytime there's an incident, if it's visible, the tower is the one that sets off the alarm," Belcher said. "At 9:55 a.m., the tower sets off the tone and says there's an aircraft with problems. They tell where it's at, how many people are on board. Our fire department, which are airport employees who are trained in fire fighting, suit up, take the trucks out. … They have to be there within three to five minutes when the alarm goes off if it's on airport [property]."
"The aircraft needs to land," Honaker said, "however, due to one engine failure, the pilot loses control of the aircraft and that involves a full crash at the Greenbrier Valley Airport with the crew and passengers. There are role players who portrayed passengers on the aircraft. They were mocked up with actual blood and injuries to simulate that they were passengers who survived that needed immediate medical attention."
"You doctor them up like they've got big time injuries, burns, that type of thing," Belcher said. "They're actors playing the part of distressed or injured passengers."
This type of training is required by the Federal Aviation Administration once every three years, keeping emergency responders ready for the worst case scenario. However, the training has been delayed by the inability to have large gatherings during the COVID-19 pandemic.
"We were supposed to have this in April, but because of the pandemic, no one wanted to get everyone together like we would," Belcher explained. "We had written for letters of extension just like every airport had been doing and then two weeks ago our contact at the FAA called and said if you can meet these stipulations, here's how you can do your triannual. … what we needed to do to meet the stipulations of the disaster drill and we were able to get enough participants."
Despite the reduced number of people involved, the training allowed the airport and emergency responders to better prepare.
"You have an after-action review with everyone involved," Belcher said. "If there were mistakes made or things that you saw that needed corrected, then that's where you talk about it, everyone takes note of it, and you correct it for the real thing or in the next drill."
For example, both Honaker and Belcher noted discussions around a media strategy during an emergency. The Greenbrier Valley Airport has set up social media pages on Facebook and Twitter in order to keep people informed during an emergency, and Honaker endorsed the idea of a "press area" on scene, where updates were given hourly.
When speaking about the drill, both Honaker and Belcher took a moment to reflect on a number of the emergency responses they've been a part of. Belcher, with 40 years of experience in the aviation field, even has experience with the prevention of a pandemic.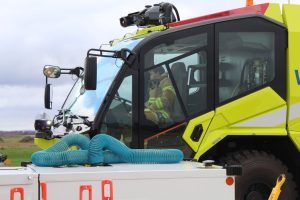 "I've had 13 drills but I've had 17 real life emergencies that I've been part of, whether it was crashes or pandemic [possibilities]. For example one time when I was in Charleston, we had someone that was flying in that we thought had been exposed to Ebola. We had to set up a command center and treat it like an emergency, we couldn't just drop the passengers into the terminal."
Honaker, who was part of the emergency response to the Virginia Tech shooting, spoke of being the first one on the scene of a plane crash, but within the hour, the son of the deceased pilot was put through to his phone, having been contacted by the media before emergency responders could notify him. When on scene of an emergency, a large part of the response is being able to adapt with the situation, something difficult to simulate.
"I would be very critical of anything we didn't do right, but it's easy to do everything right in an exercise because you know going into it," Honaker said. "You already know the date and time and who's going to be involved and who's going to respond. It's kind of hard to screw up an exercise other than who's talking on the radio and who should have been giving instructions to different public safety disciplines, I think those were some things we worked out."
Belcher celebrated the successful triannual training and thanked the responders and airport staff.
"It went really smoothly," Belcher said. "It allowed us to meet all of our requirements and it was a good day of working together. … I feel really confident in the professionals in the area. If we ever need them, they're going to come and do a great job for us."