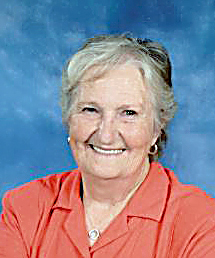 Alderson-Loreda "Rita" Allen Eggleston, 82, passed away peacefully Monday, Nov. 22, 2021 at Seasons Place in Lewisburg.
Born Nov. 23, 1938, in Alderson, she was the daughter of the late Lucy Allen Wenger and Ausborne Allen.
In addition to her parents, she was preceded in death by husband, Ronald Eggleston, and brother, Eugene Allen, both of Alderson.
She is survived by daughter, Deanna Bathgate (Todd), and grandson, Nicholas Bathgate, of Germantown, MD; brother, Ronald Allen (Frances) of Lewisburg; several nieces, nephews, and cousins; and many friends.
Rita was a faithful lifetime member of Griffith Creek Baptist Church, in Alderson, where she served as a Sunday School teacher and was very active in the Awana program. She loved being outdoors and taking care of her many rescued animals. She will be remembered for her great love for her family and friends, service to her church and community, compassion for animals, and radiant smile.
Visitation was held Thursday evening, Dec. 2 at Morgan Funeral Home. Funeral services will be at 11 a.m. Friday, Dec. 3, at Griffith Creek Baptist Church with Pastor Audie Sorg officiating. Burial will follow in the Griffith Creek Cemetery.
In lieu of flowers, the family suggests donations to Griffith Creek Baptist Church.
We will be following COVID-19 recommendations and request guests to wear a mask.
Online guestbook may be signed at www.morganfh.net