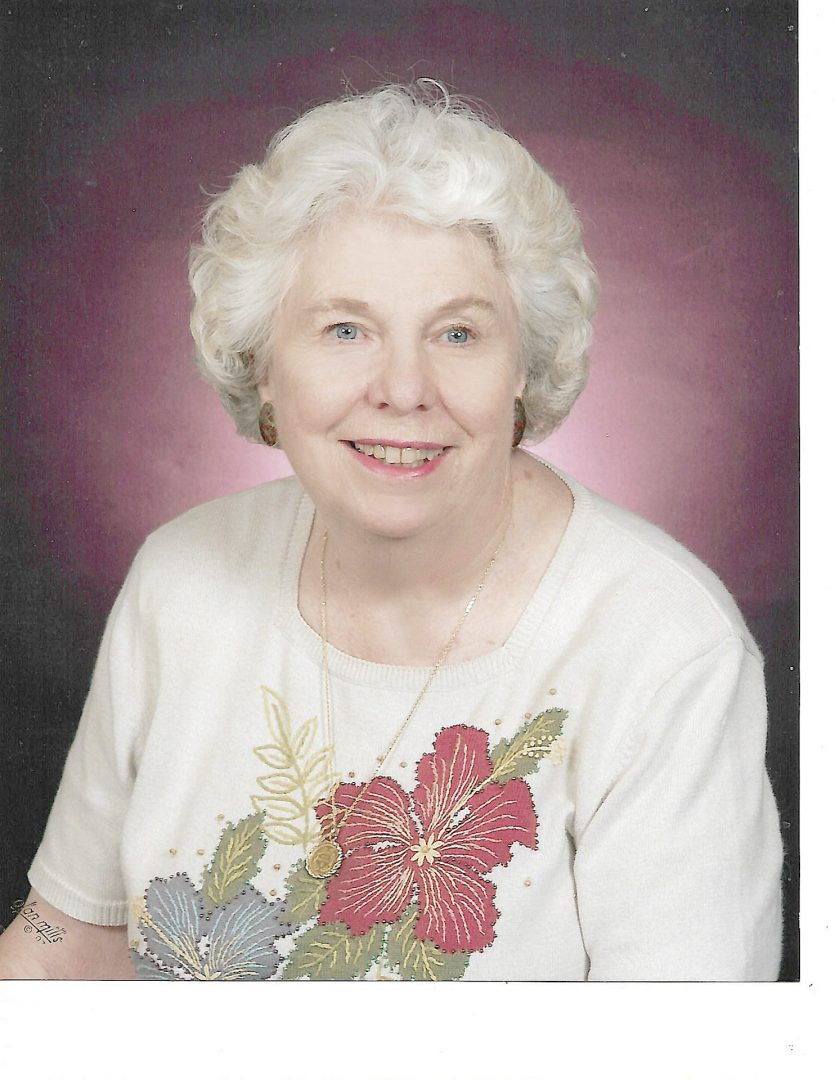 Joan Craig Martin Tuckwiller, mother, grandmother, great-grandmother, volunteer and friend passed peacefully in her sleep at her home on Saturday, Mar. 6, 2021.
She was born Sept. 25, 1931, in Ronceverte, the daughter of the late Jackson Kirby Martin and Virginia Richmond McCrary Martin.
She was pre-deceased by her husband of 68 years, John Franklin Tuckwiller; and her sister, Jacqueline Martin Holland.
She is survived by her four children and their spouses, Emily Ann Tuckwiller Shirey and Bob  Shirey, Jack Tuckwiller and Kathryn (Boots) Tuckwiller, Matthew Ross Tuckwiller and Lynne McClung Tuckwiller and Amy Craig Tuckwiller Wolf and Wilbur Earl Wolf III; her eight grandchildren and their spouses, Jenny Shirey Murray and John Murray, Christine Shirey Fosdick and Mark Fosdick, John Tuckwiller and Caitlin Tuckwiller, James Franklin Tuckwiller and Anne Bowling Tuckwiller, Slayter Tuckwiller and fiancé Taylor Rae Ward, Reese Tuckwiller and fiancé Sydney Kinstler, Wilbur Craig Wolf and Kira Oshaben Wolf, and Rachel Margaret Wolf; and her eight great-grandchildren, Orian Post, Audra Murray, Oliver Murray, Gwendolyn Fosdick, Steven Robert Fosdick due in April,  Hayden Cieniewicz, Madeline Quinn Tuckwiller, and Wilbur Alan Wolf and last but never least her beloved Scottie, Sugar. From childhood days in Ronceverte, she always had a Scottie as a pet, roughly 12 during her lifetime. She also had nieces and nephews from her sister, Jackie – Martin Holland, Lorri Payne, Nick Holland and Ginny Condrey.
Joan graduated from Mary Baldwin College in 1953 with a BA in Biology minor in Zoology. Joan lived a life of service through her church and her community. At Calvary Methodist Church, she sang in the Choir, was a Sunday school teacher for over 40 years, a Vacation Bible school teacher, UM Women's circle member serving in many offices including President. In addition, she served as Richland's charge treasurer for 20 years. She served on the WV United Methodist Women State Conference Board in several capacities including Mission Coordinator for Education and Interpretation and at the Greenbrier District level.
Joan was a sustaining member of Lewisburg House and Garden Club and at the state level served in all offices leading up to and including President of West Virginia Garden Club from 1989-1991. Working in conjunction with the WV Department of Natural Resources and WVGC, she served as Assistant and then Coordinator of the WV Wild Flower Pilgrimage from 1982-2015. With all of her children being involved in the Central Willing Workers 4-H club it was just natural that she became the leader of the club and received several club Leader of the Year awards. She also was a WV 4-H All Star and member of the Greenbrier County 4-H All Stars. Also, within WV Extension she was an active member of the Richland's CEOS club serving in various capacities including President several times.
She enjoyed riding her horse, Dolly on the family farm in her younger years and in later years playing bridge weekly with her Tuesday bridge club ladies. There was always a large vegetable garden each summer and beautiful flower beds to be tended around the yard.
A private family memorial service will be held on Friday, Mar. 12, at Wallace & Wallace Lewisburg Chapel with burial to follow in Calvary United Methodist Cemetery beside her husband, John.
Due to COVID precautions we will be live streaming the service at 2 pm and ask if you wish to participate at home through Wallace and Wallace Funeral Home's facebook page.
In lieu of flowers or food, the family welcomes well-wishers and friends to contribute to the Calvary Cemetery Association, c/o Treasurer Jim Jefferies, 142 Maple Grove Subdivision Rd., Lewisburg, WV 24901 or Greenbrier County 4-H All Stars, c/o Treasurer Jerri Gillespie, 258 Carriage Hill Drive, Lewisburg, WV  24901 or the Greenbrier County Humane Society, 151 Holiday Lane, Lewisburg, WV 24901.
Wallace & Wallace Funeral Home in Lewisburg is in charge of arrangements.
Please send online condolences by visiting www.WallaceandWallaceFH.com