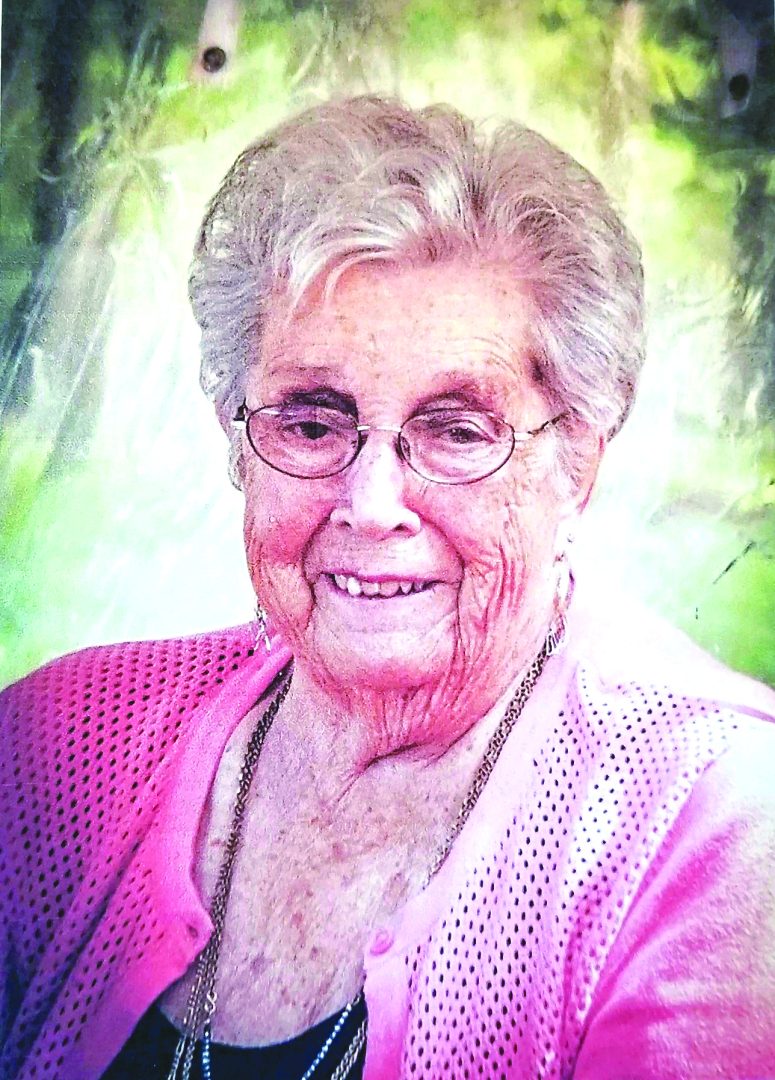 Jean L. Johnson passed away peacefully on Monday, Aug. 15, 2022, into the arms of Jesus.
She was born Nov. 21, 1932, at Lewisburg, the daughter of the late Woodson and Julia Legg at Maxwelton.
She attended grade school at Maxwelton and graduated from Lewisburg High School in May 1951. She later had correspondence schooling in bookkeeping, etc. Jean and Lee were married on July 4, 1951, and started their Christian life together west of Lewisburg, for 71 years and 42 days.
Jean had grown up in and been a member of Maxwelton Presbyterian Church until she married, then transferred to James Chapel United Methodist Church of Clintonville where she has been a member for 71 years. She had been an active member in the church being the co-music director, Sunday School Secretary for 40+ years, United Methodist Women, and any other need that arose. Her cooking abilities were enjoyed by many. She had also been an associate member of the Clintonville Ruritan Club for several years. 
Jean and Lee have been the co-owners of four corporations, Johnson Trucking, Lenry Inc., Johnson Limestone Companies, & LJ Enterprise Inc., and the owners of Jean & Lee Johnson Farm that has been in the Johnson family since 1892. As the business slowed down, Jean became very active in both sewing and painting classes and was accomplished in everything she tried to do. 
In addition to her parents, Jean was preceded in death by an infant son Harold Lee, (deceased after 4 hours), two sisters, Betty Hale (Legg) Tuckwiller, (Clifton) and Eleanor Van Lear (Legg) Hobbs, (Lawrence).
Survivors include spouse, Lee H. Johnson of Lewisburg; son, Raymond Lee Johnson and wife Donna of Lewisburg; two daughters, Joyce Ann (Johnson) Lovell and husband Pat of Beckley; and Sue Ellen Johnson and husband Scot Brown of Lewisburg. They have four grandchildren, Samuel Ray Johnson, Stephanie Ann (Baldwin) Tobergte, (Bobby); Elizabeth (Honaker) Vance, (Jeff); and Nicole Lee Honaker; three step-grandchildren, Katelyn Winfrey (Keldon), Peyton Brown, and Kensley Shannon; five great-grandchildren, Ashley Brooke Johnson (David), Colby Ray Johnson, Alexis Ann and Chandler Grant (Bubby) Jones, Lyla June Smith, and three step-great-granddaughters, Hadley and Hollyn Winfrey, and Wrenlee Shannon; nieces, Cynthia Tuckwiller Crane, Karen Tuckwiller Godby (Marty), both of Lewisburg and Laurie Hobbs Bell (Mike) of Roseland, VA; one nephew, Clifton Michael Tuckwiller of Asbury; several other great-nieces and nephews and many other extended family members and friends.
Funeral service was held on Thursday, Aug. 18, at the James Chapel Church, Shoestring Trail Road, Clintonville, where Rev. Jesse Pope, Rev. Sam Groves, and Dr. Steve Gedon officiated. Burial followed in the church cemetery. Visitation was one hour prior to the service at the church.
Pallbearers will be grandsons, Sam Johnson, Colby Johnson, Chandler Jones, Bobby Tobergte, David Johnson, and Peyton Brown.
Pianists are Barbara Stone and Stephanie Baldwin Tobergte.
The family thanks all that have blessed them with their prayers, kind words, food, assistance in the past few months and to acknowledge the great help from two very special care givers, Amy Jackson and Brenda Tincher.
Online guestbook may be signed at www.morganfh.net
Arrangements by Morgan Funeral Home, Lewisburg, WV.