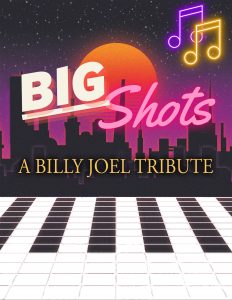 Carnegie Hall's final Ivy Terrace Concert is Thursday, Sept. 14, at 6:30 p.m. with Billy Joel tribute band Big Shots. Sponsored by City National Bank, the concert will take place outside on Carnegie Hall's Ivy Terrace as attendees watch from the expansive lawn in front of New River Community and Technical College. Concertgoers are encouraged to bring a lawn chair or blanket and pack a picnic to enjoy live music. All Ivy Terrace concerts are free, open to the public, and alcohol free.
Big Shots: A Billy Joel Tribute was formed in 2022 by a group of powerhouse musicians based out of Lewisburg, WV to showcase the music and lyrics of Billy Joel. Performing the biggest hits and delving into the deepest cuts, they present songs from the entirety of Billy Joel's career and share the stories and techniques behind the songs. Whether performing as a showcase or in the usual concert setting, the audience enjoys all the musical aspects that Billy Joel fans have come to know and love.
Big Shots musicians include John Maddy, keyboards and vocals; Billy Ayers, drums, and percussion; Jacob Brooks, guitars; Ben Cadle, Bass and backing vocals; Rick Leatherman, saxophones, percussion, and backing vocals; Lillie King, acoustic guitar, percussion, and backing vocals; and Brennan Wood, keyboards, acoustic guitar, and backing vocals.
Greenbrier Dairy's Cow Licks Dessert Trailer and Kitchen 304 will be on location. Cow Licks ice cream is mixed by hand in freezing pans, together with a wide variety of toppings. Then it's rolled up and served in your choice of a fresh-made waffle cone taco shell or bowl. Kitchen 304 is Greenbrier County's newest late night food option and will serve a variety of dinner options.
Concerts will be moved inside to the Hamilton Auditorium if the weather dictates. As a reminder, outside food and drink is not permitted in the auditorium. Follow and Like Carnegie Hall's Facebook page for updates. For more information, please visit www.carnegiehallwv.org or call 304-645-7917.
Carnegie Hall WV is a nonprofit organization supported by individual contributions, grants, and fundraising efforts such as TOOT and The Carnegie Hall Fantasy Gala. The Hall is located at 611 Church Street, Lewisburg, WV.