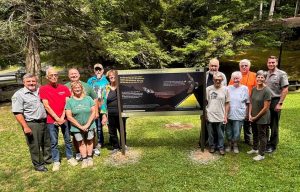 The Watoga State Park Foundation board is happy to present our Dark Sky Park Information sign, designed by Lens Creek Studios.  The sign explains that Watoga State Park is in the darkest region in the mid-Atlantic states and is certified by the International Dark Sky Association.
The images and messages are superimposed over a dark sky photo by J. Perez, a local volunteer amateur astronomer taken at the Watoga dam at night.  As the sign notes the importance of the preservation of our unique wildlife, birds and insects, it also mentions what you can do to help preserve the dark skies in this area.   Lighting that glares upwards into the sky does nothing to help with security or lessen crime as it is wasted.  Only use lighting where and when it is needed.  Install fully shielded light fixtures with low-intensity bulbs that directs light downward to the ground or use motion or timed lighting.
This beautiful information sign was made possible by a grant from the Snowshoe Foundation and donations to the Foundation from the public.  Please visit our website, watogafoundation.org for events and star party dates coming up!