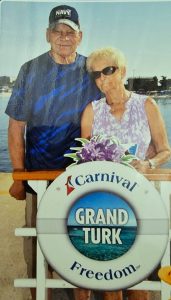 Charles D. Ridgeway
and
Lana B. Ridgeway
Sinks Grove-Charles D. "Charlie" Ridgeway, 75, and Lana B. Ridgeway, 75, were always together (where you saw one, you would see the other) and they both died together and will spend eternity together.
Charlie was born June 1, 1948 in Ronceverte, the son of the late James Charles and Elizabeth Ridgeway Massie. Lana was born June 20, 1948 in Ronceverte, the daughter of the late Roy and Mary Holcomb Neal.
He was a Navy Veteran during the Vietnam War and a member of the American Legion. Charlie was a home construction contractor for many years and Lana a homemaker, but around retirement time they both took up farming in the Scott Hollow area of Sinks Grove, Monroe County.
Preceding Charles in death other than his parents were his brothers, Jerry Ridgeway and Jody Ridgeway.
Preceding Lana in death other than her parents was her brother, Doug Reynolds.
Surviving Charles and Lana are their children, daughter, Karen O'Brien (Mark); sons, Charles "Chuck" Ridgeway (Becky) and Michael Ridgeway (Jennifer) all of Sinks Grove; grandchildren, Nikki Moyer (Jonathan Brown), Ryan Wakeford (Kaitlyn Hunter), Cooper Ridgeway and Baylee Ridgeway; great-grandchildren, Ashlyn Blevins, Hunter Blevins, Cain Wakeford, Tiana Daniels, and Kolton Brown.
Charles's siblings include Sharon Massie of Lewisburg, Valerie Massie (Jake Neely) of Turkey Creek and Steve "Sam" Massie (Angie Morris) of Ronceverte.
Lana's siblings include Linda Massie of Staunton, VA, Sherry Falls of Second Creek, Missy Anderson (Brad) of Frankford, Ernie Reynolds (June) of Frankford, Cecil Reynolds of Ronceverte and Jack Lucas (April) of Fort Spring; and a host of nieces, nephews and friends.
Joint funeral services for Charles and Lana were held on Sunday, Aug. 27, at the Wallace & Wallace Funeral Home in Ronceverte where Pastor Scott Kapple and Pastor Andy Howdock officiated. Interment followed in Elizabeth Chapel Cemetery, Organ Cave. (Military graveside rites for Charles were conducted by American Legion Post #26).
The family received family and friends at the funeral home before the service.
Wallace & Wallace Funeral Home in Roncevertes in charge of arrangements. Please send online condolences by visiting www.WallaceandWallaceFH.com