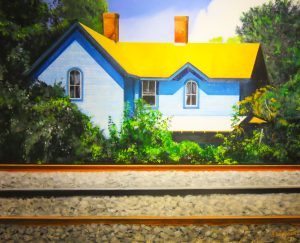 Carnegie Hall's summer/fall exhibits are underway with three new galleries featuring the works of regional artists. The Old Stone Room Gallery features "A Sense of Place" by artist Ellen Fischer. The Old Stone Room is located on the ground floor of Carnegie Hall. The exhibit runs through Oct. 27.
Fischer is a painter with a Master of Fine Arts from the School of the Art Institute, Chicago and a Bachelor of Fine Arts from Herron School of Art, Indianapolis. Additional education was taken when she received a partial scholarship to Skowhegan School of Painting and Sculpture (Skowhegan, Maine) in the summer of 1981.
Since then, in addition to painting, she has worked as a curator of collections and exhibitions at two small museums, in Lafayette, Indiana, and in Vero Beach Florida. She has authored hundreds of articles about art and artists for the weekly newspaper Vero Beach 32963 and the monthly Vero Beach Magazine. She continues to work as a fine art appraiser, both independently, and as an associate of Appraisal Associates International, whose past clients include several private and corporate collections.
Fischer's art is a diary of who she is and what she experiences day to day.  Her mother, Edith Austin Fischer, who supported her in her art education, was raised on Teaberry Road, in Ronceverte, West Virginia. Born in 1920 in Poga, TN, she came to Ronceverte in 1921 as a baby in her mother's arms with her father and elder siblings. Her grandparents, Mr. and Mrs. C.C. Austin, joined other family members from Poga here, including her great-grandparents, Mr. and Mrs. William Austin, her great-uncle Henry Austin and his wife Rachel (Yates), her great-uncle Joe Austin and his wife Sally (Hodges), and her great-aunt, Alice Austin, who married Thomas Willard Church.
With so many relatives in West Virginia, Fischer's mother and father would vacation there for a week every summer throughout her childhood, when she was privileged to meet many of her 36 first cousins and visit the towns and countryside surrounding Ronceverte.
She continued to visit Ronceverte for family reunions throughout her adulthood and working life. She has painted many pictures of Ronceverte, many studio pictures from photographic notes she took while visiting, as well as on-site landscape paintings and portraits of her Austin family. "A Sense of Place" showcases some of these paintings.
When Fischer had the opportunity to bid on a house in Ronceverte in 2021, she jumped at the chance, never thinking she might win it, but she did. This is her third extended stay in Ronceverte since then. She intends to make Ronceverte her permanent home next year.
Carnegie Hall exhibits are free and open to the public, Monday through Friday, 10 a.m. to 4 p.m., and run through June 30. For more information, please visit carnegiehallwv.org, call 304-645-7917, or stop by the Hall at 611 Church Street, Lewisburg.
Carnegie Hall programs are presented with financial assistance through a grant from the West Virginia Department of Arts, Culture and History and the National Endowment for the Arts, with approval from the West Virginia Commission on the Arts.