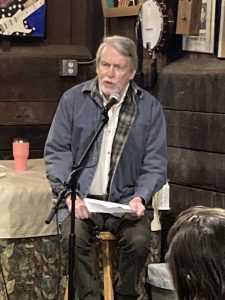 The final Open Mic at the Depot for the 2023 season was held Saturday, Oct. 7, at the Historic 1896 C&O Train Depot in Alderson. Fifteen musicians gathered for a very cool (both temperature and vibe) evening following the very successful second Annual Alderson Fall Festival on the Bridge.
Floyd Gillespie performed for the first time because last month's article asked if anyone knew a train song. Floyd knows train songs and more. Lots of regulars showed up, enjoying hot cider and pastries, as well as each other's company. Eddie Johns was the guest emcee again and has been a very faithful supporter of the event.
Event coordinator Marcia Sutherland said, "We are so blessed to have this many musicians in the area. Thank you for your faithful attendance, and we're looking forward to new music from everyone next May." For more information on Open Mic at the Depot, look at Alderson Main Street's Facebook page or contact Don Sutherland at donsutherland2003@yahoo.com.