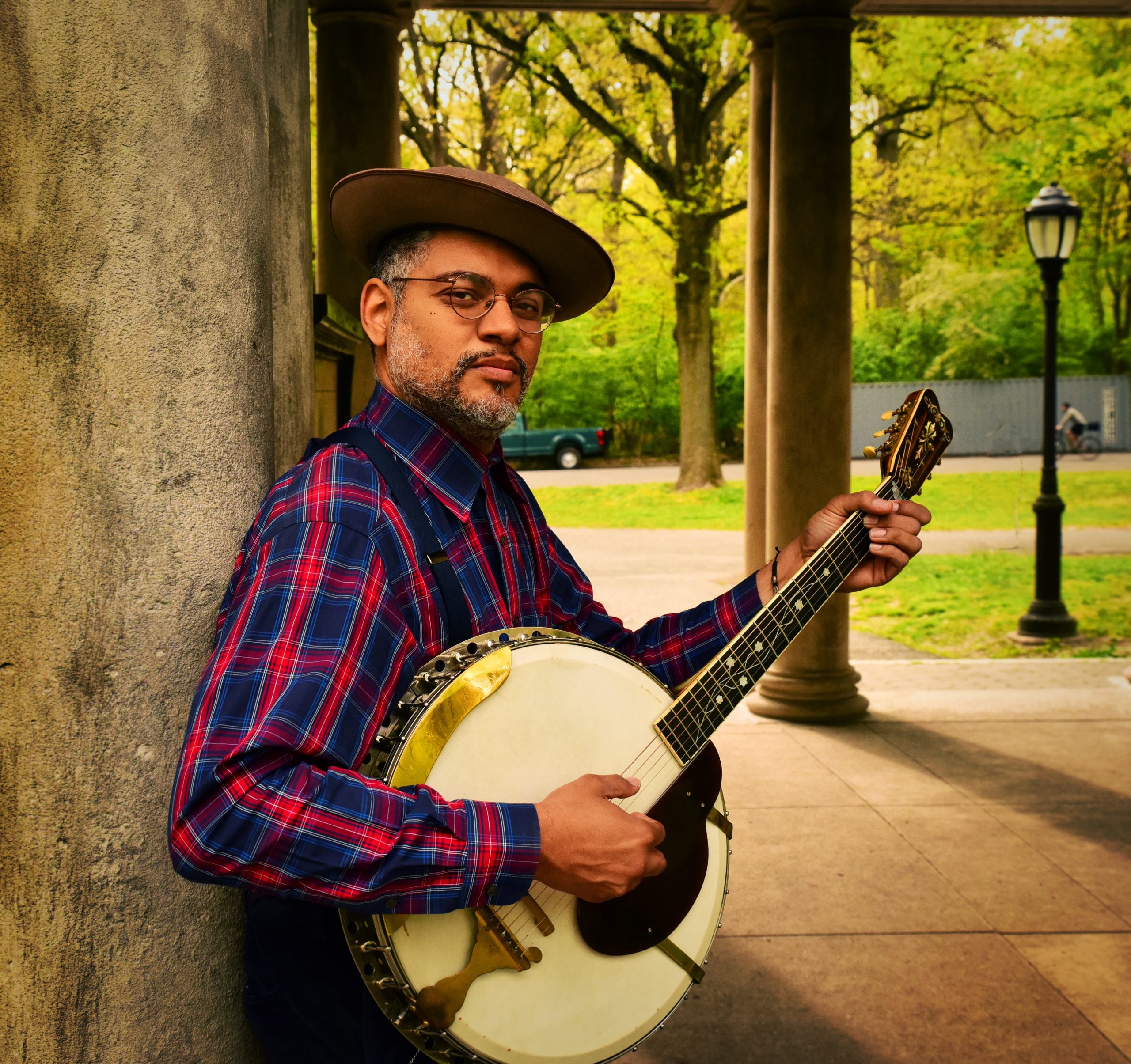 Dom Flemons, a celebrated preservationist, storyteller, and instrumentalist, will grace the stage at the Pocahontas County Opera House on Friday, Oct. 20, at 7:30 p.m. Known for his remarkable ability to breathe life into forgotten folk songs, Flemons has garnered critical acclaim, including a Grammy Award, Two-Time EMMY Nomination, and the esteemed title of 2020 US Artists Fellow.
Originally hailing from Phoenix, Arizona, Dom Flemons currently resides in the Chicago area with his family. He has aptly earned the title of "The American Songster" due to his extensive repertoire that spans over a century of early American popular music. Flemons wears many creative hats as a songwriter, multi-instrumentalist, producer, actor, slam poet, music scholar, historian, and record collector. He exhibits virtuosity on instruments such as the banjo, guitar, harmonica, jug, percussion, quills, fife, and rhythm bones. Notably, he was honored with the 2020 United States Artists Fellowship Award for the Traditional Arts category, a recognition generously supported by The Andrew W. Mellon Foundation.
Mar. 24, 2023, marks the release of his latest album, Traveling Wildfire, following his acclaimed 2018 release, Black Cowboys. With this album, Flemons turns his attention to an often overlooked voice – his own. When asked about his aspirations for the album, Flemons expresses, "I hope people will be able to hear the different phases of my life through the lyrics and feel the energy that fuels my creativity within the songs. The past few years for me have been a time of deep reflection and meditation. I hope that the album will light a fire of inspiration inside everyone who experiences it."
In addition to his musical endeavors, Flemons is actively involved in various artistic organizations. He currently serves on the Board of Directors for the Steve Martin Banjo Prize, Music Maker Relief Foundation, and holds a Governor position on the Board of Directors for the Washington, D.C Chapter of the Recording Academy.
Tickets for this captivating performance at the Opera House are priced at $10 for adults and free for individuals age 17 and below. Tickets can be secured through pocahontasoperahouse.org, the 4th Avenue Gallery in Marlinton, and at the door on the evening of the performance.
The Opera House Performance Series receives vital support from the West Virginia Department of Arts, Culture, and History, with the approval of the West Virginia Commission on the Arts. Additional backing comes from Pocahontas County Dramas, Fairs and Festivals, as well as the Pocahontas County Convention and Visitors Bureau.
The Opera House warmly welcomes audiences of all kinds to its informal, family-friendly performances. The venue is fully accessible to individuals with disabilities, and special accommodations can be arranged upon request. Admission is available both at the door and in advance via the website, with seating offered on a first-come, first-served basis.