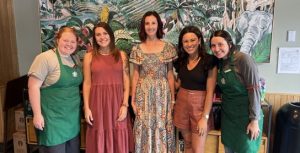 As part of The Starbucks Foundation's Neighborhood Grants program, Family Refuge Center was selected to receive a $1,000 grant. This grant award is thanks to a local nomination from an anonymous Starbucks partner, who recognized the work of Family Refuge Center, mission is to end physical, sexual, and emotional abuse in families. As well as encouraging and promoting healthy family life based on mutual respect for all family members. Through this unique program, The Starbucks Foundation invites Starbucks partners to nominate a local organization in their community. Since 2019, more than 10,000 grants have been awarded to local organizations, amounting to more than $15 million.
Family Refuge Center is a comprehensive domestic violence and sexual assault facility which operates from five locations in three counties. Services include a 24-hour hot line, temporary shelter, empowerment counseling, legal advocacy and court accompaniment, assistance and advocacy with community resources, information, and referrals, prevention education, support groups, adult basic education and vocational planning, children's advocacy, groups and activities, summer day camp, as well as parent education and support.
The Starbucks Foundation's Neighborhood Grants programs support grassroots, community-led nonprofit organizations through catalytic investments in the form of grants. Neighborhood Grants also help build sustained local impact and inspire increased partner (employee) engagement with nonprofit organizations that work in their communities.
"Our partners (employees) know their communities best and have shared great insights about the organizations helping to uplift others in their neighborhoods, from supporting youth and families to fighting hunger and promoting environmental stewardship," said Alicia Vermaele, executive director of The Starbucks Foundation. "Through our latest round of Neighborhood Grants, we're proud to support local organization nominated by Starbucks partners who make our communities stronger."