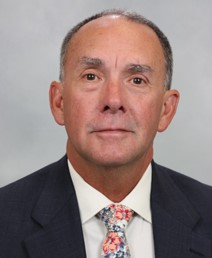 Robert C. Byrd Clinic is pleased to announce that Jeffery Braham, DO, has joined the Family Medicine Department and is accepting new patients. Dr. Braham is a highly respected primary care physician committed to providing outstanding patient care across the Greenbrier Valley and western Virginia. With over 25 years of experience, Dr. Braham is board certified in family medicine and specializes in endoscopy and colonoscopy procedures which are used to examine the digestive tract. Colonoscopy is the gold standard for the early detection of colon cancer.
A native of Parkersburg, WV, Dr. Braham is passionate about providing community-based care and he strives to empower patients to be active decision makers in their own care. He is a graduate of the West Virginia School of Osteopathic Medicine and completed residency at United Hospital Center in Clarksburg, WV, where he served as Chief Resident.
"Robert C. Byrd Clinic continues to grow and expand services and we are excited to welcome Dr. Jeffery Braham to our team. He is an energetic leader who will bring great insight and experience to the organization," said Scot Mitchell, CEO. To schedule an appointment with Dr. Braham, please call 304-645-3220 ext.2.