By Townley Hamilton
Elaine Jasperse is the devoted grandmother to Isabel and Ava Jasperse; furthermore, she's "Grandma J." to every marching Spartan since 2012. Her bond with the band began when Isabel was a freshman.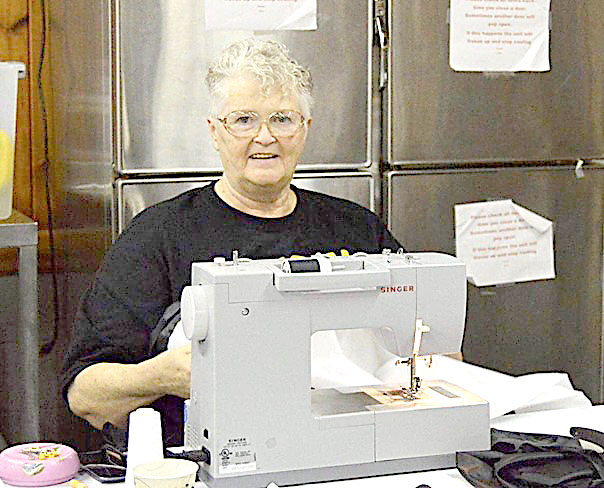 "Isabel asked if I could help with the costumes for the drumline. The theme was Zelda, which was a favorite of Isabel's," said Elaine. Ever since then, it's been "a mad rush from July until about Nov. 1," she laughed. Over nine years, Grandma J. has shared much of her time and talents. She has sewed costumes, flags, and canvas backdrops, altered and laundered uniforms, managed concession stands, and assisted with competition trips – all in support of the Greenbrier East Spartan Band.
Though COVID-19 changed many things for the 2020 band season, Elaine's devotion to the band never ceased. Even with both granddaughters graduated, she still made things happen for the band kids. The extraordinary force that is Grandma J. made masks not only for the Spartan Band but also for the EGMS Knight Band. In total, she made 127 face masks and 110 instrument covers.
"A regular mask takes about 20 minutes," she said. However, a musician's mask is more intricate with a "split and flap for the mouth opening. Those could take one and a half hours apiece," she explained. Then there are the covers for the bells of the horns and bag-like coverings for the wind instruments. "Those were pretty easy," she added. Easy for Elaine, perhaps.
A native of Kalkaska, Michigan, and one of four girls, Elaine's sewing love started young. "Mom taught us when she was quilting. We had 4-H, and they had some classes you could start at nine years old. Your first year was a tea towel and apron," she giggled.  As an adult, when she would go home to visit, her mother would have fabric squares ready for her daughters to help make quilts. "Sometimes in a weekend, we'd get seven quilts made! The four girls plus mom, it was like a production line! She never charged for the quilts and would give them all away." When asked about today's generation sewing, she lamented, "Oh, Wow! Nobody is doing it! It's what I call a lost art."
Elaine also learned the art of hospitality, starting with waiting tables as a teenager. She went on to study hospitality management at Davenport College, MI, later raise a family, and own and manage two successful restaurants. It should come as no surprise that shortly after she started volunteering with the Spartan Band, she stepped into running the two concession stands at Spartan Stadium. The stands have been a vital fundraiser for the band. Elaine's expertise has kept concessions profitable, efficient, and fans coming back for more.
One of the many things she learned during her restaurant years was to "keep it simple," she said. Relating to the concession stands, she explained that you couldn't have everyone's favorite items. The more hot foods you have, the more equipment needed, and thus more expense and volunteers. "You're never losing business when you're out; they buy something else," she affirmed. Making money for the band has not been her sole ambition. "My goal was to get them [the band kids] use to working and teach them skills for working with the public," said Elaine.
Concession stand days are typically long for Grandma J., starting at about 3 p.m., ordering and receiving food, prepping the kitchen, cooking, managing student volunteers, and not ending until after clean up, around 11 p.m. Yet, she seems to thrive on the pace and excitement.
"Oh my! The Woodrow Wilson and James Monroe games! They are our busiest! Jam-packed until the last minute!" she recalled with pride. "Being around the people and everything, the helter-skelter, it's like a big explosion! It's fun to do it… until the body wears out," she laughed.
The love and energy that Elaine has for the band and music runs deep. Growing up, she played piano, was part of her church's orchestra, and a member of her high school marching and college concert bands. As if it were yesterday, Elaine recalled with excitement, "I remember every trip I went on in high school for band. It was the highlight of the week! I played saxophone and my junior and senior year I was the drum major." Naturally.
Impressively, Elaine's granddaughter, Ava, followed in her footsteps and was a drum major. Through her own experience and her granddaughters', the importance of band in a young person's life remains clear to Elaine. "It gives a lot of students a purpose. It's one of those classes you're always going to remember. It teaches leadership, being part of a group, and getting along with people. It takes dedication to learn an instrument!"
"Elaine exemplifies a band volunteer in the highest…and all band volunteers are awesome, but she has been a blessing to us," commented Jim Allder, East band director.  Few can do everything she has done alone, but Grandma J. wisely reminds, "If everyone volunteers, the time commitment is not that great. The little things help so much. Mr. Allder can't do all that stuff."
Eighteen years ago, Elaine joined her son, Jeff Jasperse, his wife, Amy, and their two little girls in Lewisburg. Thus, what has been the Jasperse family's good fortune has become the good fortune of countless marching band students.
"Every house needs a grandmother in it" —Louisa May Alcott
"Every band needs a Grandma J." —Spartan Marching Band