On Old Asbury Road, a young farmer is using a century-old grist mill to grind corn grown on a century-old farm established by his great-grandfather. Julian Arbaugh had not planned to operate a grist mill, but when he and his father were visiting a family friend in Raleigh County, they were shown a circa 1920 grist mill the friend had reconditioned. When the friend offered to sell the mill, Arbaugh decided on the spot to purchase it, and that was 15 years ago.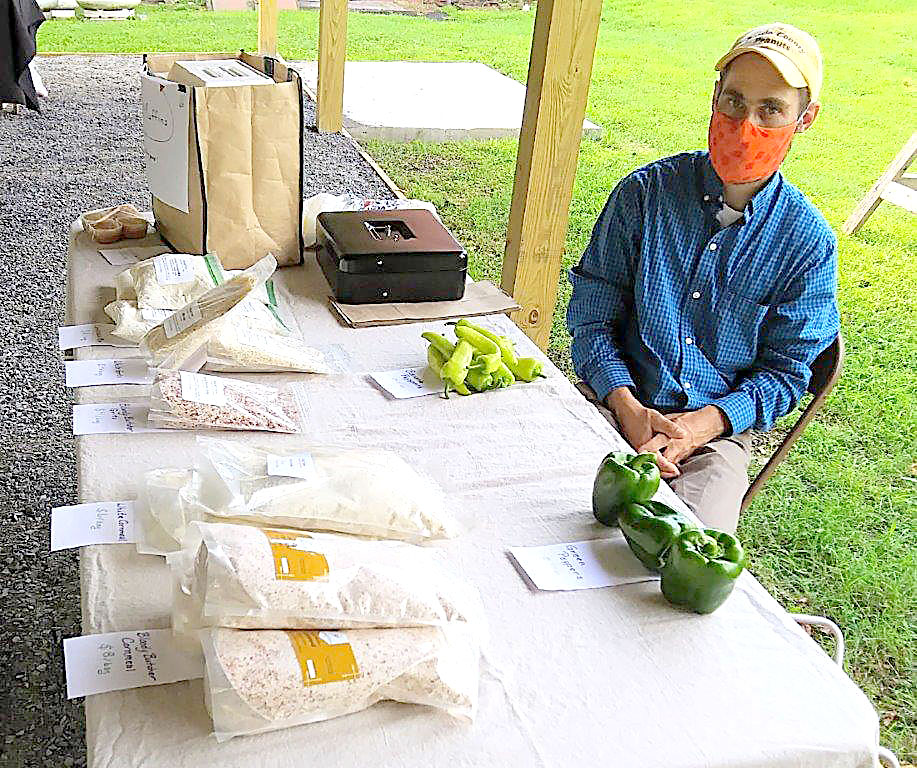 The mill at Arbaugh Farm is powered by a large flywheel on a John Deere tractor. The mill stones are pink granite. The mill produces authentic stone ground meal. Stone ground meal is considered more nutritious than meal ground by steel rollers, in part because the germ and the husk are retained. Stone ground meal should be refrigerated to maintain freshness. Arbaugh grinds both cornmeal and grits.
Last year, Arbaugh grew Bloody Butcher corn and white corn for this year's cornmeal and grits. Bloody Butcher is an heirloom variety, grown primarily in the Appalachian Mountains, since at least 1845. When ground, the red and white appearance is said to resemble a butcher's blood-flecked apron. White corn produces a high-quality product, with taste and texture superior to yellow corn.
Arbaugh said, "You can use white cornmeal to make pancakes, and they will be as fluffy as Bisquick pancakes. The only problem is many of my customers think cornmeal should be yellow." He hopes people will try the white cornmeal.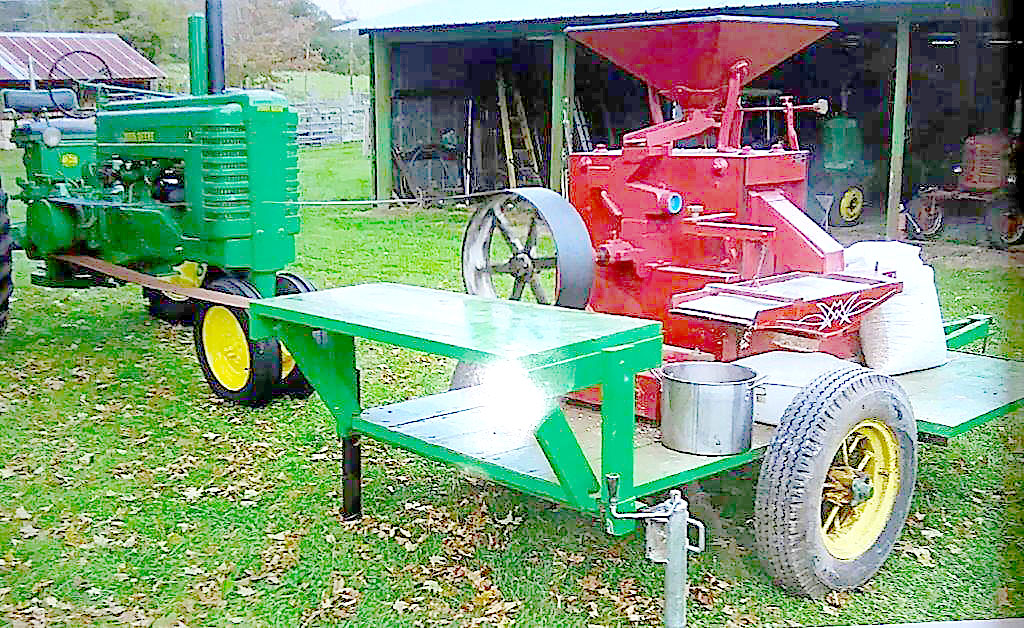 Until last year, the grist mill was displayed for working demonstrations at community events and small festivals. Now, Arbaugh is putting his gristmill to work at the farm. He sells his cornmeal, grits, and "Company Cornmeal Mix" at the Alderson Community Market (Tuesdays from 3 to 6 p.m.), Courthouse Farmers Market in Lewisburg (Saturdays from 8 a.m. to 1 p.m.), White Sulphur Springs Farmers Market (Thursdays from 3 to 6:30 p.m.), and through Turnrow, the Appalachian Farm Collective (www.turnrowfarms.org).
At Arbaugh Farm, Julian and his father also raise Angus beef cattle and sorghum. This is their third year of raising, pressing, boiling down, and selling sorghum molasses. Molasses is made in October, and is Arbaugh Farm's best-selling product. Fawn Valentine, co-manager of the Alderson Community Market, said, "You have to be quick to get some of the molasses. Those bottles 'go like hotcakes' here!" If you cannot find Arbaugh at one of the markets, you can call him at 304-645-6216 to arrange to buy his products.