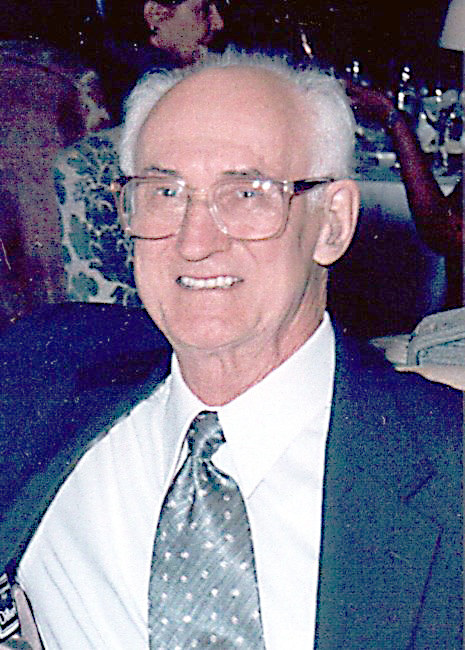 Alderson-Dr. William (Bill) Harold Roush was born in Alderson, WV, on Feb. 17, 1927, the second of three sons to parents Earl Ray and Mary Lydia (Dameron) Roush. After graduation from Alderson High School, Bill attended Berea College in Berea, Kentucky, graduating with a Bachelor of Science in Chemistry. In 1951, during his second year of medical school, he married Grace D'Albora, a registered nurse, who he would proudly tell you supported him and their growing family through the remainder of his medical training.
In 1953, Bill graduated from the SUNY Downstate College of Medicine in Brooklyn, New York. He went on to complete a residency in internal medicine at the Medical College of Virginia and Ohio State University, followed by a research fellowship in endocrinology at Ohio State. During this time, he also served for two years as a Captain in the Army Medical Corps at Fort Jackson, South Carolina. He then joined the staff as an internist and endocrinologist at a clinic in Point Pleasant, West Virginia, until moving his family and joining the staff of the Veterans Administrative Hospital in Temple, Texas, in 1963. In 1969 Bill decided he could better serve his patients as a radiologist, completing a three-year residency at Scott and White Hospital. He practiced Radiology at the VA Hospital until his retirement in 1995.
Following the death of his wife, Grace, in 1999, Bill married his longtime friend and associate, Maria Elena Bassel, MD, who practiced internal medicine at the VA hospital for 32 years.
Bill was an avid and lifelong sports fan and athlete, playing football in high school. As an adult he enjoyed tennis, weightlifting, swimming, and snow skiing well into his seventies, and was one of the founding members of the Temple Tennis Club. He also loved classical music, woodworking, photography, and discovered ball room dancing with Maria. Without question, Bill found unlimited joy in following the lives of his children and many grandchildren. He loved nothing more than sharing pictures of them with family and friends. Bill was admired by many, but none more than his children and grandchildren for his wit, wisdom, and staunch support of their academic endeavors.
Bill is survived by a daughter, Julie Butler of Temple, Texas, son, Billy Roush (Kay) of Austin, Texas, son, David Roush (Arlynda) of Troy, Texas, son, Paul Bassel (Katrina) of Dallas, Texas, and son, Dabney Bassel (Pam) of Fort Worth, Texas. He is also survived by 12 grandchildren, Rachel Butler of Austin, Texas, Will Butler of West Palm Beach, FL, Preston Roush (Emily) of Dallas, Texas, William Patrick Roush (Rachael) of Columbia, MO, Phillip Roush of Austin, Texas, Emily Roush of Belton, Texas, Caroline Roush of Dallas, Texas, Brandon Aguilar (Sarah) of Buda, Texas, Brooke Epperson (Zachary) of New Braunfels, Texas, Emily Bassel of Dallas, Texas, Rose Bassel of Dallas, Texas and Katherine Bassel of Seattle, WA.  He is also survived by eight great-grandchildren. 
He was preceded in death by his parents Ray and Mary Roush, brothers Bob and Tom Roush, and wives Grace Roush and Maria Roush.
Graveside service and burial was held on Thursday, Nov. 18, at the Old Greenbrier Memorial Cemetery in Alderson where Pastor Derek Hall officiated.
In lieu of flowers, memorials may be made to Baylor Scott and White Cancer Research Fund, or to Alzheimer's Association at 225 N. Michigan Ave., Fl. 17, Chicago, IL 60601.
Online condolences and memories may be shared with the Roush family at www.lobbanfh.com
Arrangements by Lobban Funeral Home, Alderson, WV.