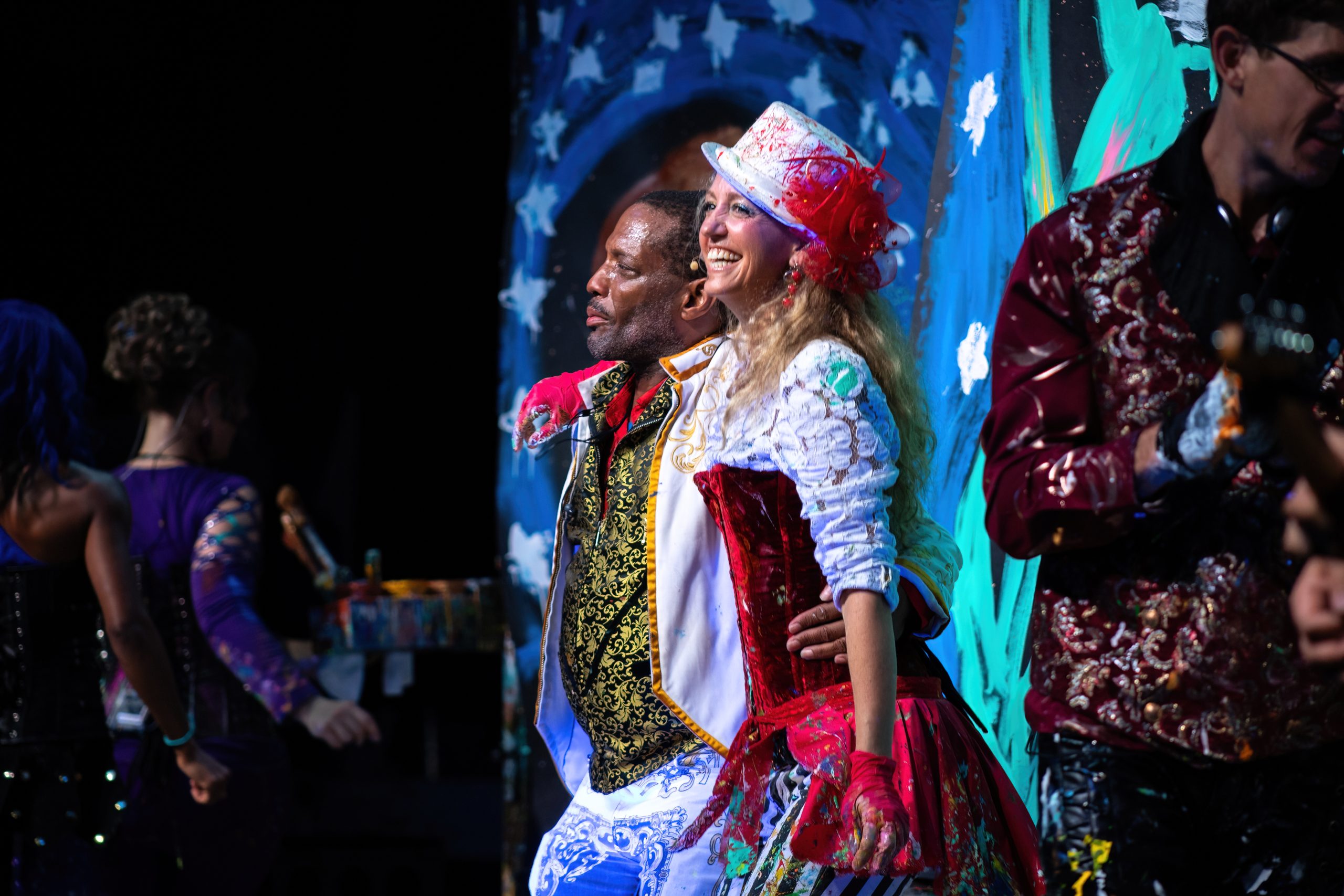 Greenbrier County Elementary School Students attended performances by Artrageous at Carnegie Hall in Lewisburg as part of their partnership program, Spotlight on Schools. On Sept. 27 and 28, Carnegie Hall presented three performances to nine elementary schools.
Artrageous is known for its blend of multiple art forms into a single, interactive live concert experience for all ages. They are based out of their community studio center and production offices located between Santa Fe and Albuquerque, New Mexico.
"Artrageous is really all about the arts. We try to throw as many different arts as possible on one stage. So, if you come to an Artrageous show, you're going to see live painting, music, singing, dancing, comedy and audience interaction, and the artists are always collaborating with the musicians, to try to complete their portraits in the amount of time it takes to do the songs. It's always just like a rush to the finish – every note is being taken up with creating a masterpiece." – Artrageous performer Lauri Francis
Artrageous performances are high-energy and crafted to feature immersive theater encouraging audience participation and typically highlighting several genres of music, dance, puppetry, storytelling, and speed-painted visual art. Artrageous performances feature 10-12 multi-talented performers in a 90-minute, high-energy, participatory concert and fine art event.
Artrageous paintings, created live-in-concert, are often auctioned for charity and are on display throughout the United States and internationally in public and private galleries and collections. Each Artrageous show typically concludes with an impromptu on-stage gallery event, where audience members are invited to view the art created during the show as well as meet and interact with the performers.
Students from Alderson, Crichton, Frankford, Lewisburg, Rainelle, Ronceverte, Rupert, Smoot, and White Sulphur Springs elementary schools attended this year's performances. 
Harmony Flora, Carnegie Hall's Education Director, stated that "this year's Spotlight on Schools program was one of the best school-shows ever! The students were so excited to be invited to participate, and the Hall was rocking with children singing, clapping, and dancing in their seats. It was so fun!"
Spotlight on Schools features a different performance medium each year, giving the students in Greenbrier County unique opportunities to realize the power of live performance. By bringing inspiring performers, artists, and musicians to the area, Carnegie Hall strives to present experiences that broaden our students' understanding of the world outside southeastern West Virginia. Money from the Greenbrier County School levy helps fund programs like Spotlight on Schools.
For more information on this program, contact Harmony Flora, Education Director, at 304-645-7917.