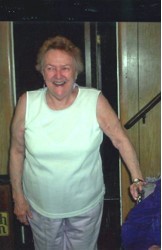 White Sulphur Springs
-Anna Lee Corron, 90, passed away Sunday, Oct. 15, 2023 at CAMC Memorial Division in Charleston.
She was born Aug. 3, 1933 at Glace, a daughter of the late Wallace McDowell, Sr.  and Ethel Webb McDowell.
She was retired from Bell Atlantic Telephone Company and was a 1950 graduate of White Sulphur Springs High School.
In addition to her parents, she is preceded in death by her husband, Robert Corron.
Survivors include a brother, Estel McDowell, Jr. (Anita) of White Sulphur Springs and sister, Carolyn Schneider of Clementon, NJ; several nieces and nephews including a special nephew, Jimmy Dice of Dayton, OH; and special friends, Jeanne (Henry) Jackson and their son, Robbie, all of Covington, VA.
Funeral service will be at 11 a.m. Friday, Oct. 20, at Wallace & Wallace Funeral Chapel in White Sulphur Springs. Burial will follow in Hillcrest Cemetery, White Sulphur Springs.
Visitation will be one hour prior to the service at the funeral home on Friday.
Wallace & Wallace Funeral Home in White Sulphur Springs is in charge of arrangements. Please send online condolences by visiting www.WallaceandWallaceFH.com.