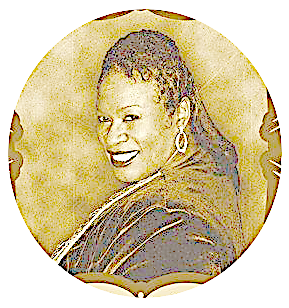 Doris Fields, also known as Lady D, brings her one-woman show The Lady and the Empress to Carnegie Hall Thursday, Jan. 20, at 7 p.m. The special event is in observance of Martin Luther King, Jr. Day will take place in the intimate setting Old Stone Room at Carnegie Hall.
The Lady and the Empress is based on the life and music of blues legend, Bessie Smith. Smith was born in the late 1800s in Chattanooga, Tennessee. She grew up in poverty and obscurity and may have made a first public appearance at the age of eight or nine at the Ivory Theatre in her hometown. About 1913, she toured in a show with Ma Rainey, one of the first of the great blues singers, from whom she received some training. For several years Smith traveled through the South singing in tent shows and bars and theatres in small towns and in such cities as Birmingham, Memphis, and Atlanta. After 1920 she made her home in Philadelphia and it was there that she was first heard by Clarence Williams, a representative of Columbia Records.
In February 1923, Smith made her first recordings, including the classic "Down Hearted Blues," which became an enormous success, selling more than two million copies. She made 160 recordings in all, in many of which she was accompanied by some of the great jazz musicians of the time, including Fletcher Henderson, Benny Goodman, and Louis Armstrong. Her most notable songs included "Tain't Nobody's Biz-ness If I Do," "Careless Love Blues," "Empty Bed Blues," "Nobody Knows You When You're Down and Out," and "Gimme a Pigfoot."
Smith's subject matter was the classic material of the blues: poverty and oppression, love – betrayed or unrequited – and stoic acceptance of defeat at the hands of a cruel and indifferent world. She was known for her rich contralto voice and her breathtaking emotional intensity. The great tragedy of her career was that she outlived the topicality of her idiom. In the late 1920s her record sales and her fame diminished with the Great Depression and as social forces changed the face of popular music and bowdlerized the earthy realism of the sentiments she expressed in her music. Her gradually increasing alcoholism caused managements to become wary of engaging her, but there is no evidence that her actual singing ability ever declined.
Known in her lifetime as the "Empress of the Blues," Smith was a bold, supremely confident artist who often disdained the use of a microphone and whose art expressed the frustrations and hopes of a whole generation of Black Americans. She appeared in a short motion picture, St. Louis Blues (1929), since 2006 preserved in the National Film Registry of the U.S. Library of Congress. The film, based on the lyrics of the song, which Smith sings, is the only known footage of the singer and shows the emotional power of her performance. She died on Sept. 26, 1937 in Clarksdale, Mississippi, from injuries sustained in a road accident. It was said that, had she been white, she would have received medical treatment that would have saved her life, and Edward Albee made this the subject of his play The Death of Bessie Smith (1960). She was inducted into both the Blues Hall of Fame (1980), in its inaugural class, and the Rock and Roll Hall of Fame (1989).
The Lady and the Empress is written and performed by Doris Fields. Fields was born in the coalfields of Cabin Creek, West Virginia. She is known as West Virginia's First Lady of Soul and has released six CDs, including her newest and most recently released, "Disturbing My Peace." Her original song, "Go Higher" was the winner of the national competition for the best Obama Inaugural Song in 2008. As a result, she and her band MISSION performed at the Obama for Change Inaugural Ball in Washington, DC, in January 2009. She also has written a spin-off to The Lady and the Empress called Bessie's Blues, an abbreviated version of the original show.
Tickets are $10 and may be purchased by visitingwww.carnegiehallwv.org, calling the Carnegie Hall Box Office at 304-645-7917, or stopping by at 611 Church Street, Lewisburg. Carnegie Hall Box Office is open Monday through Friday, 10 a.m. until 4 p.m.
Carnegie Hall WV is a nonprofit organization supported by individual contributions, grants, and fundraising efforts such as TOOT and The Carnegie Hall Gala. The Hall is located at 611 Church Street, Lewisburg. For more information, please call 304.645.7917 or visit www.carnegiehallwv.org