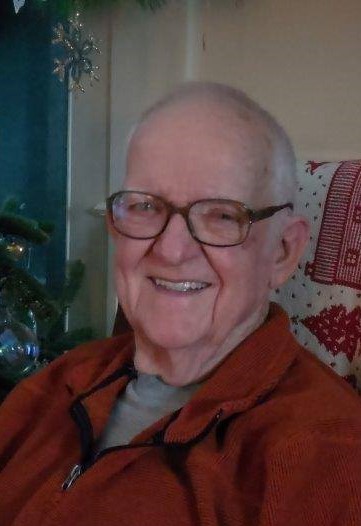 Blacksburg, VA-Carl William Moats, born on Oct. 26, 1924 in Elkins, WV, to the late Melvin and Carrie (Campbell) Moats, passed away at age 98 just before midnight, Saturday, Dec. 31, 2022 in Blacksburg, VA.
Carl was preceded in death by his loving wife, Virginia (Redys) Moats; siblings, Haskell Moats (Louise), Mildred (Bill) Davis, Edna (Ralph) Moats, Woodrow (Julia) Moats; and son, Paul Zakrzeski.
Carl is survived by his daughters, Barbara (Jim) Davis, Kathleen (Bill) Bittinger, Monica Foos; and son, Damian Zakrzeski. He leaves behind five grandchildren, three great-grandchildren, nieces, nephews, great-nieces and nephews and a large extended family.
Carl was born the youngest of five children on a farm in Elkins. He graduated from Elkins High School and was immediately drafted into the Navy, spending most of his time stationed in the Aleutian Islands. After three years of service, he returned home and began working for C&P Telephone. Carl relocated to Maryland and met his first wife Aletha and welcomed a daughter, Barbara. Through his work with the telephone company, he was credited with installing the first phone in the Johns Hopkins Applied Physics Lab in Laurel, MD, and worked at that facility until he retired.
In 1972, he married his long lost childhood sweetheart, Virginia and gained four stepchildren, Kathy, Paul, Monica and Damian. Carl took great pride in his enormous garden and loved dropping off fresh fruits and vegetables to family, friends and neighbors. Carl loved nothing more than being a grandfather and shared his love of gardening and fishing with each of his grandchildren. After his wife passed, Carl moved back to West Virginia with his daughter Monica where he spent the last 12 years of his life making friends everywhere he went.
Friends and family members are invited to attend the memorial service Saturday, Jan. 21, at 3 p.m. at Wallace & Wallace Funeral Chapel, 175 Mountain Avenue, White Sulphur Springs, WV 24986.
In lieu of flowers, the family requests that memorial contributions be made to the Greenbrier County Public Library in Lewisburg, WV.
Please send online condolences by visiting www.WallaceandWallaceFH.com