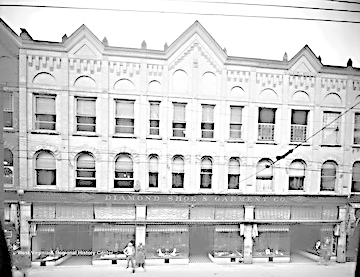 By William "Skip" Deegans
For many folks from southern West Virginia, Christmas would not be complete without a trip to Charleston's The Diamond department store. With five floors, it was the state's largest store. During the holidays, the windows were elaborately decorated. For children, it was an opportunity to sit on Santa's lap and assure him they had been good boys and girls during the year. 
This week's photo from circa 1917 shows the the Diamond Shoe and Garment Company. Owned by Wehrie B. Geary, it began in 1906 as a shoe store and by 1917 it was a full department store. In 1926, Geary partnered with A. W. Cox who had a chain of stores in West Virginia. Together, they built The Diamond that opened in 1927. The store had a modern ventilation system, three elevators, and a pneumatic tube system that allowed clerks to send money to the accounting department to be changed and charges to be posted. In 1949, the store expanded and added two more elevators and West Virginia's first escalators. The store included a cafeteria and lunch counter. Listeners to one of Charleston radio stations may recall: "The Diamond! Charleston built and Charleston owned and operated presents the West Virginia news."
The Diamond was one of the last stores in Charleston to integrate. While African Americans could purchase clothes, they could not try them on. They could not be served sitting down at the cafeteria or the lunch counter. In 1958, a group of black leaders began a twenty-two month campaign to integrate the store. In 1960, black and white students from West Virginia State College staged a sit-down at the lunch counter. Shortly afterwards, the store management agreed to integrate.
When the Charleston Town Center Mall opened in 1983, The Diamond closed its doors for good. 
Photo: Courtesy of the West Virginia Regional History Center.
Sources: West Virginia Archives and History, West Virginia Public Radio, The WV Encyclopedia.org.