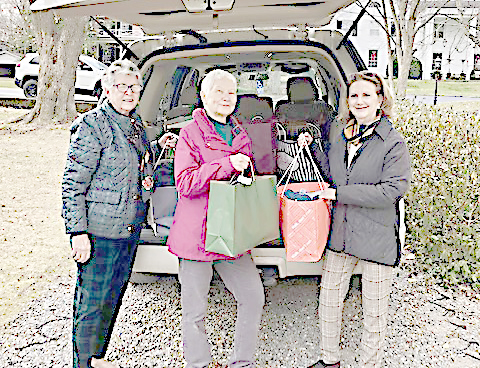 Each December, the members of the General Andrew Lewis Chapter of the NSDAR takes on the project of providing clothing and personal items to the veterans who are at the Veterans Administration Medical Center in Beckley. Members purchase items to contribute. It is collected by the Veterans Affairs Committee and delivered to the medical center. 
The Committee is composed of Carol Olson, Suzanne Cronquist and Judy Deegans.
The Voluntary Service Coordinator, Suzette Taylor at the VA Medical Center was pleased to receive a phone call that the Chapter had again collect items for the veterans.
Taylor responded to the call saying, "We are so pleased you are coming. We are out of size large sweatpants and sweatshirts. This fills a real need." 
The delivery was made on Dec. 6. The National Society Daughters of the American Revolution is a nonprofit, non-political women's service organization whose main objectives are historic preservation, education and patriotism. Members are all lineal descendants of those who supported the cause of independence in the Revolutionary War back in 1776. 
If you are interested in the Daughters of the American Revolution, call former Regent Sandra Cowan at 304-497-3553.