By William "Skip" Deegans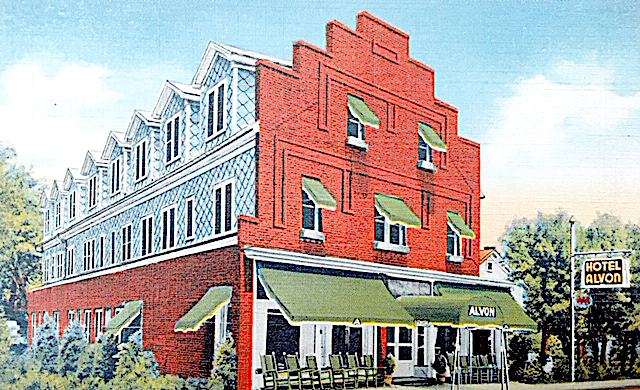 As a new hotel will open soon in White Sulphur Springs, it may be worth noting it wasn't that long ago the town had several hotels and motels. They were testaments to the town's importance as a tourist destination, its location on U. S. Route 60 before Interstate 64 was built, and the number passenger trains that stopped daily in White Sulphur Springs.
Shown in this week's photo is a 1939 postcard of the Alvon Hotel that was located on west Main Street. It was a short walk from The Greenbrier. Originally named the Hart Hotel, it was built in 1920 by Edward and Elizabeth Hart. The three-story hotel had 46 rooms, two apartments, and a dining room. In 1936, the hotel was acquired by the Aracoma Hotel Company that had been organized by W. L. Davis, a coal executive. Apparently, it was Davis who changed the hotel's name to the Alvon Hotel.
In 1943, the hotel was sold to Walter and Ekra Shepard of Florida for $36,000. In 1956, the Shepards financed a sale of the hotel to Glenna Bell who also owned the Village Motel. The Alvon suffered a fire in 1990, and the Shepards foreclosed on it in 1993. The hotel was razed in 1995.
The Alvon advertised an elevation of 2,000 feet, and it was "air cooled by nature" which probably meant a guest could open a window.
Postcard courtesy of the Greenbrier Historical Society.
Sources: Raleigh Register, Beckley Post-Herald, Tampa Bay Times, various deeds.