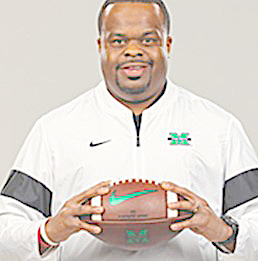 The Greenbrier Valley Friends of Marshall Club are excited to announce the return of the Marshall University Coaches' Tour, brought to you by the Big Green Scholarship Fund. The 2021 tour will make stops in three different states during the summer months. Don't miss your opportunity to hear select coaches and administration address the state of Marshall Athletics. The event will take place on June 6 at Briergarten located at 12 Stratton Alley in downtown Lewisburg.
There is no charge to attend the event, doors open at 6 p.m., and the program begins at 7 p.m. The program will include new Marshall University head football coach, Head Men's Basketball Coach Charles Huff, Dan D'Antoni, and more from MU athletics.
Guests may order food and beverages off the restaurant menu. With questions or to RSVP contact the Greenbrier Valley Friends of Marshall at gbvfriendsofmarshall@gmail.com or visit their Facebook page for more information.