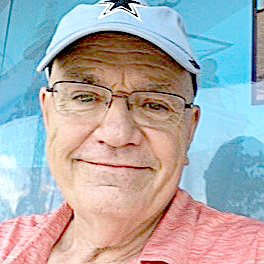 Staunton, VA-James Russell Kirby, 72, formerly of Alderson, passed away at his home on Wednesday, May 5, 2020.
Russ was born May 6, 1947, at Blaker's Mill, WV. He was the only son of the late Clara Elva Kirby.
He was also preceded in death by a special cousin, Marguerite Kirby.
Russ was a retired supervisor of Dominion Virginia Power of Bath County, VA.
He was a member of Johnson Memorial United Methodist Church in Alderson.
He was a member of both Alderson and Staunton Lions Clubs, previously serving as District Governor, member of the Alderson Masonic Lodge #70, AF & AM, and member of the Ronceverte Loyal Order Moose Lodge, #2523. Russ was a longtime committee member of the annual Alderson 4th of July Committee and was an instrumental coach and board member of the Alderson baseball and softball Little Leagues.
He was an avid hunter, fisherman, WVU Mountaineers, Dallas Cowboys, and Cincinnati Reds fan. Most importantly, Russ knew no strangers and loved his family and friends endlessly.
Survivors include his significant other, Linda Pack of Staunton, VA; daughter, Sarah Kirby of Ringgold, GA; sons, James Russell Kirby, II, (Donna) of Grassy Meadows, WV, and David (Carrie) of Organ Cave, WV; grandsons, Hunter Kirby and Mason and Ethan Kirby; granddaughter, Rachel Kirby; niece, Dr. Virginia Workman, of New Haven, CT; mother of his children, Susan Hale of Alderson; special friend, Mike Rogers of Alderson; fur friend, Maebelle; and a host of other cousins and extended family.
For those wishing to show an expression of sympathy, contributions may be made in memory of Mr. Kirby to the Alderson Ministerial Association, P.O. Box 641, Alderson, WV 24910.
Family and friends are welcome to attend at Johnson Memorial United Methodist Church, 104 N. Monroe St., Alderson, WV, on Saturday, May 29, from 11 a.m. until the time of the memorial service at 12 noon with Reverend Rick Brown officiating.