By William "Skip" Deegans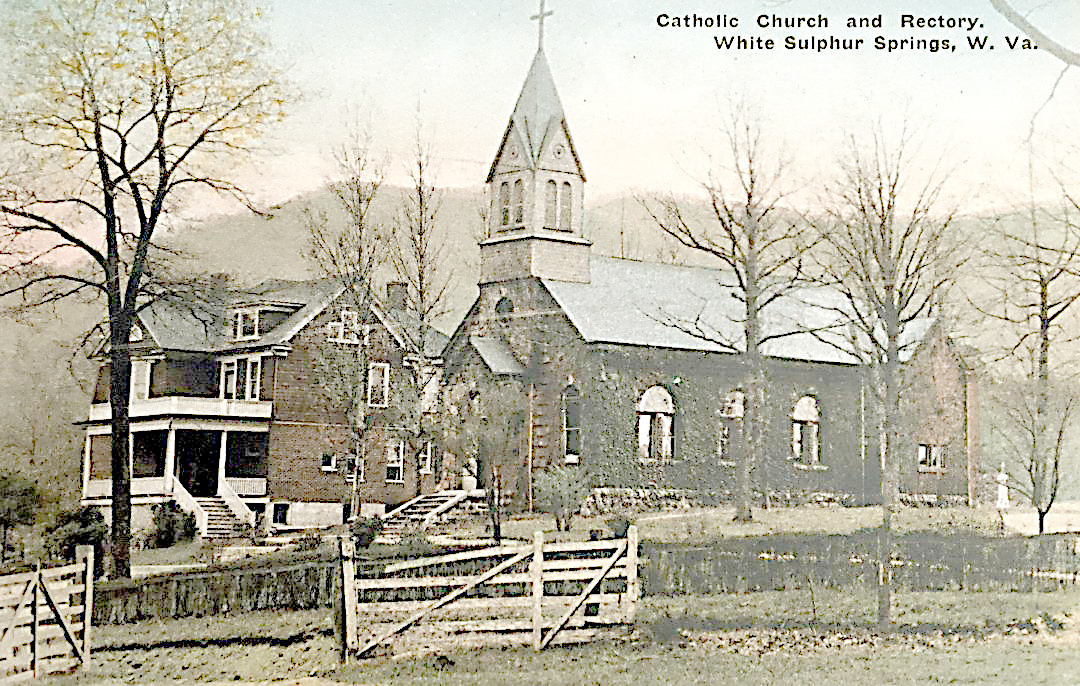 This week's hand-colored photo of the old Catholic Church and rectory in White Sulphur Springs is from a 1924 post card. The contemporary St. Charles Borromeo Catholic Church was built in 1959-1960 at a cost of $225,000. The new church was built with a seating capacity of 256 and included a crying room for babies and their parents. The church was dedicated on November 16, 1960 and blessed by Archbishop John J. Swint. A celebratory banquet in The Greenbrier's Mural Room followed.
Bishop Swint (1879-1962), a native of Pickens, WV, was known as "God's Bricklayer." During his tenure as Bishop, 100 churches, 5 hospitals, 43 elementary and secondary schools, one college, and one preparatory seminary were founded. Swint drew national attention in 1948 when he threatened a contestant in the Miss West Virginia beauty contest with excommunication if she did not drop out. She refused and was indeed excommunicated. Swint considered beauty pageants to be "immoral, indecent exposure, and totally pagan." The Miss American Beauty Pageant pushed back and said its beauty pageant was "not based on nakedness, but on intelligence, talent, charm, good breeding and other factors that make up the typical American girl."
Sources: Beckley Post-Herald, Hinton Daily News, The Leader (Hinton), WV Encyclopedia.