By William "Skip" Deegans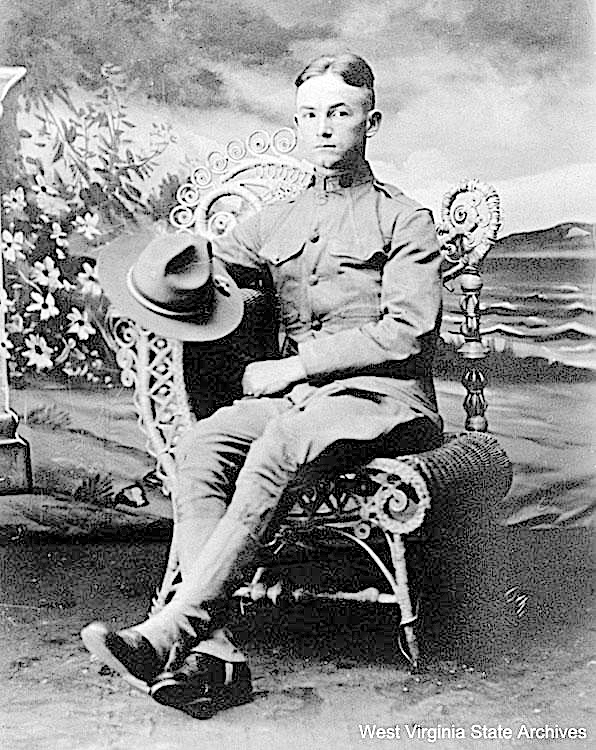 This week's photo shows Lewisburg native Homer Adams ("Rocky") Holt in his WWI uniform. Holt attended Greenbrier County public schools, graduated from Greenbrier Military School, and graduated Phi Beta Kappa from Washington & Lee College. After receiving his undergraduate degree, he served as a Second Lieutenant in the Coast Artillery Corps. After the war, Holt returned to Washington & Lee, graduated from law school, and taught at the law school.
He returned to West Virginia to practice law in Fayetteville where he entered politics as a Democrat. He became state Attorney General, and in 1936 ran for Governor. Holt's opponent's platform included eliminating taxes. While he was receptive to reducing sales taxes on certain food items, Holt thought eliminating taxes would undermine West Virginia's public school system and eliminate social services just as the state was recovering from a depression. In an editorial, Hinton's Independent-Herald wrote: "But he (Holt) held out no false hope for an Utopian abolishment of taxes – or even for a reduction in taxes – while the state has its obligations to suffering humanity – obligation that Homer Holt says must and will be met."
Holt won in a landslide, and at 34 he became West Virginia's youngest governor at the time. After one term as Governor, Holt moved to New York City to become General Counsel and Vice President of Union Carbide. Eventually, he returned to a private law practice in Charleston where he died in 1977. He is buried in Lewisburg.
Photo: Courtesy of West Virginia Department of Archives and History from the Julia Holt Coyle collection.
Sources: New York Time, West Virginia Public Radio, Independent-Herald, Hinton Daily News, Bluefield Daily Telegraph.