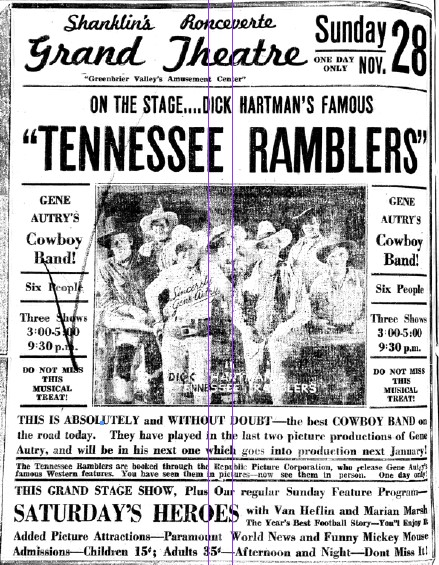 By William "Skip" Deegans
In 1937, Dick Hartman's Tennessee Ramblers, one of the best country western bands in the United States, performed at Shanklin's Grand Theatre in Ronceverte.
Hartman founded the band in 1928 to appear on Pittsburgh's WDKA radio station. One of the original members was Harry "Horse Thief" Blair who was from New Martinsville, WV, and had worked at the Weirton Steel works. A later addition to the band was Cecil "Curly" Campbell who played the steel guitar and sang.
The band moved to Charlotte, NC, in 1934 and became a mainstay on WBT radio. The next year, they made their first recording on the Bluebird Records label.
They went on to record for RCA-Victor and Montgomery Ward and appeared in western movies with Gene Autry, Dale Evans, and Tex Ritter.
Dick Hartman left the band in 1938, and Cecil Campbell took over as leader. They continued performing into the 1980s. Campbell, a prolific song writer, was also successful as a soloist and was elected to the Country Music Hall of Fame.
Completed in 1937, the Grand Theatre was designed by prominent African-American architect John Norman. When it opened, it was one of the most advanced movie theaters in West Virginia. The building still stands but is in a sad state of repair.
Photo: From www.historysouth.org.
Advertisement courtesy of West Virginia Daily News.
Sources: www.historysouth.org, www.hillbillymusic.com, University of California Library at Santa Barbara.