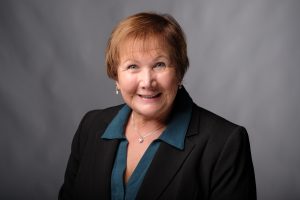 A senior administrator at the West Virginia School of Osteopathic Medicine (WVSOM) received a national award for her work in health care administration.
Drema Hill, Ph.D., WVSOM's vice president for community engagement and chief operations officer, was recognized at the American Public Health Association's (APHA) annual meeting and expo on Nov. 14 in Atlanta, Ga. She received the APHA Health Administration Section Excellence in Health Administration Award for 2023.
The award recognizes exceptional and sustained achievement in public health administration, as evidenced by contributions in the fields of practice, science, research, teaching or writing. The APHA includes more than 25,000 members, with the Health Administration Section alone comprising more than 2,000 members.
Hill, who received an engraved statue from the APHA, said she is thankful to be honored by the organization.
"To be selected for excellence at a national level by my colleagues in the country's largest public health association is beyond anything I could have imagined," she said. "As WVSOM's chief operations officer, I use my healthcare administration skills and experience to ensure WVSOM's economic future is secure. I understand the importance of strategic planning and transparent financial management in higher education, and I believe in partnerships – not only within our state, but national partners, like those I meet through my work with the APHA.
James W. Nemitz, Ph.D., WVSOM's president, praised Hill for her long history of work to improve the health of rural communities.
"This recognition acknowledges Dr. Hill's decades of accomplishments that address some of the most important health care challenges of our times, including HIV, COVID-19 and the opioid epidemic," Nemitz said. "She is an amazing person who is committed to serving others throughout West Virginia and beyond."
Hill has more than three decades of experience in public health leadership. She joined WVSOM in 2016 and became a vice president of the osteopathic medical school in 2019. Hill also serves as a consultant on issues relating to opioid settlement funds for the Office of West Virginia Attorney General Patrick Morrisey.
Her past honors include the Excellence in Rural Health Award from the West Virginia Rural Health Association; the Small Communities, Big Solutions Advocate Award from the Alliance for Economic Development of Southern West Virginia, the West Virginia Community Development Hub and Coalfield Development; and West Virginia Executive magazine's Health Care Hall of Fame award. She received the Neil Diehl Award for Innovation and Excellence in HIV Prevention, Care and Treatment from Vanderbilt Comprehensive Care Center in Nashville, TN.