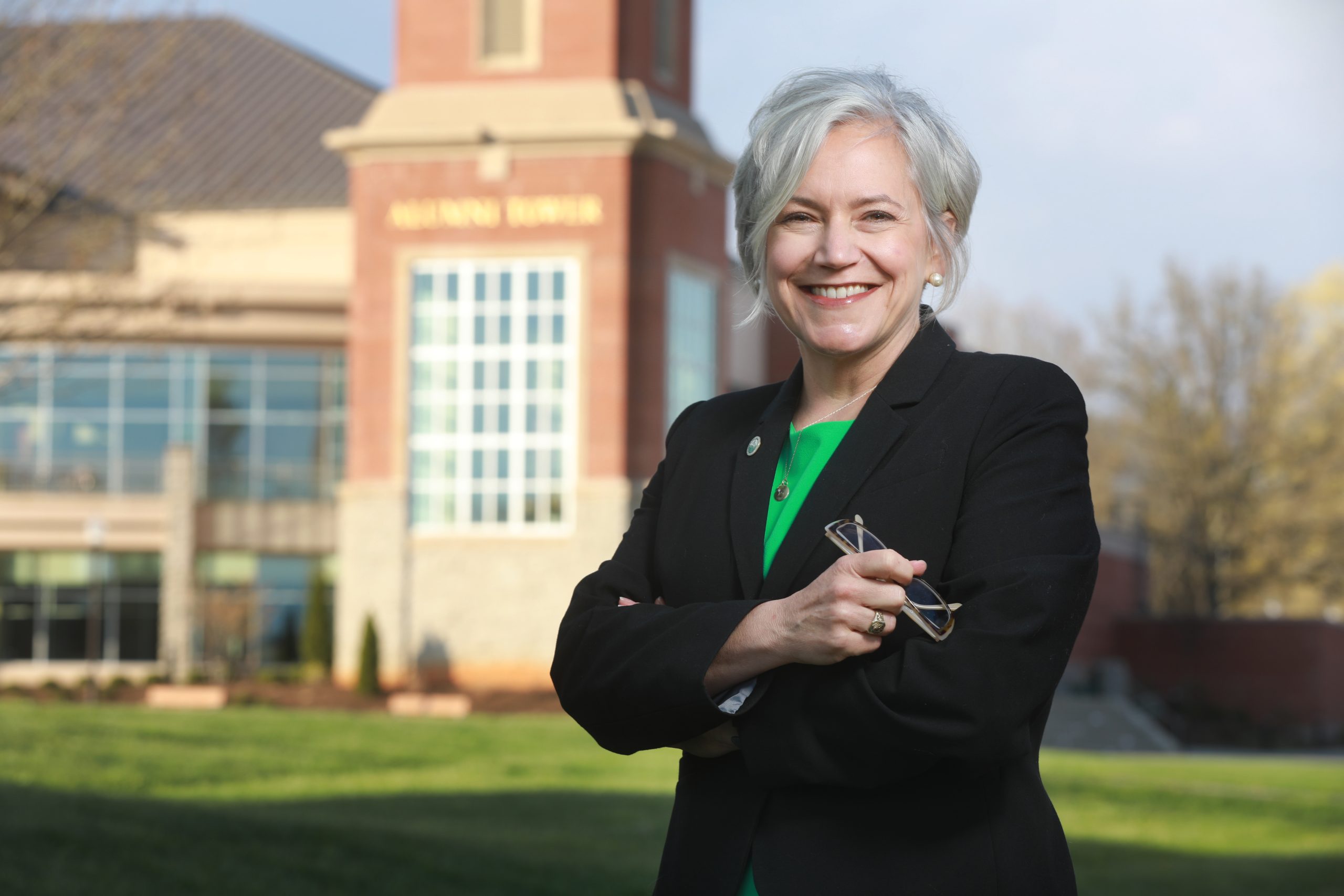 A vice president at the West Virginia School of Osteopathic Medicine (WVSOM) has been recognized for her work throughout the state. 
Leslie Bicksler, MSW, WVSOM's vice president of human resources, was named in this year's "West Virginia Wonder Women" by WV Living magazine. She is one of 50 women featured in the publication's fall 2023 issue, having been identified by the magazine as "raising the bar in their communities, serving as beacons of light in their industries and forcing change for the greater good."
"I've known previous wonder women, and I really look up to them. When you become part of a class of people you respect and admire, it makes you feel fortunate to be in that group with them," she said of her recognition. 
One of the publication's previous winners, Bernie Deem, a human resources expert in the Charleston, WV area, has been a mentor to Bicksler throughout her career. 
Bicksler is a Lewisburg native and has a master's degree in social work, which proved to be the impetus for her transition from her position of executive director of the United Way of the Greenbrier Valley to work in human resources. She began a career in human resources at First National Bank in Ronceverte, WV, before joining WVSOM in 2005. She currently serves as the school's vice president of human resources as well as its equal opportunity and ADA coordinator. 
Bicksler said overseeing the personnel at the state's largest medical school and one of Greenbrier County's largest employers is gratifying because it allows her to help connect individuals to their ideal job.
"I like getting to know people. I like getting the right people in the right jobs. Interviewing, hiring and onboarding is my favorite part of working in human resources," she said. 
Bicksler prefers to work at mission-driven organizations, and she said WVSOM clearly incorporates its mission into its day-to-day operations. 
"WVSOM is a place where I can get my arms around the mission. Even though I don't work directly with students, I feel responsible for helping to make this a great place to work and making sure I can help employees as much as I can."
As part of her role, Bicksler strives to ensure that the school has the faculty and staff to educate West Virginia's future physicians. She has helped provide the personnel that has made the institution a leader in rural health care throughout West Virginia, as evidenced by the 64 percent of physicians who practice in rural areas of West Virginia who are WVSOM graduates. 
Through Bicksler's leadership, WVSOM's Office of Human Resources also provides student-led trainings through the LEAD program, which helps medical students enhance their leadership skills by allowing them to conduct discussions on topics such as unconscious bias, decision-making, workplace motivation and emotional intelligence.
In addition to her professional responsibilities, Bicksler has been involved in many community organizations. She was a board president at Carnegie Hall in Lewisburg and the Greater Greenbrier Chamber of Commerce; a member of the board of directors for the Robert C. Byrd Clinic, the Centre College Alumni Association and United Way of the Greenbrier Valley; a chairperson for The Greenbrier Classic Concert Series; a volunteer in her local 4-H club; and a member of Leadership West Virginia's Class of 2020-21. Bicksler and her family reside as the seventh generation on their family's farm in the Greenbrier Valley.
"I grew up in this community and was taught that if you're going to be part of something, then you need to be involved and active in it. If you have skills to contribute, then you should contribute them," she said. "At different times in my life I have focused my energy on different things. Recently, I was a co-chair for the State Fair of West Virginia's Big Wheel Bash, a benefit for their endowment, and we raised more than $80,000 for scholarships and agricultural enrichment programs."
Bicksler finds joy in cultivating people, organizations and communities to their full potential. Having successful local organizations, including nonprofits, is also important in recruiting applicants to WVSOM, Bicksler said. 
"There are certain resources you hope to have in a community to draw people in, and I feel a certain level of responsibility in fostering those resources when I can," she said. "It's a huge draw for applicants and their family members to see that a community has the resources they need to be successful."
She finds that Lewisburg is an interesting small, rural town with unique cosmopolitan influences. 
"Whether it's Carnegie Hall, the Greenbrier Valley Theatre, shopping or restaurants – I don't think people expect this jewel of an area," Bicksler said. 
One thing she wants to continue to improve is bringing more education and interaction among community members and WVSOM's diverse student population to offer more cultural understanding. 
WVSOM President James W. Nemitz, Ph.D., said there are many "wonder women" like Bicksler quietly putting in the work to make the state a better place. 
"Leslie is one example of how involved WVSOM employees are," he said. "She not only is successful as a leader at WVSOM but has been an active member of the Lewisburg community outside of her career for many years. I'm happy that WV Living has recognized a WVSOM employee for her achievements along with other exceptional women in our wild, wonderful state of West Virginia."
Bicksler is one of three women selected who are affiliated with WVSOM. Hilary Miller, D.O., MPH, a 2002 WVSOM graduate and physician at her practice, Little Kanawha Family Medicine in Glenville, WV, and Sherri Young, D.O., MBA, FAAFP, a 2003 WVSOM graduate and cabinet secretary of the West Virginia Department of Health, were also recognized. 
WV Living will honor the recipients at a West Virginia Wonder Women event on Nov. 1 in Charleston, WV.