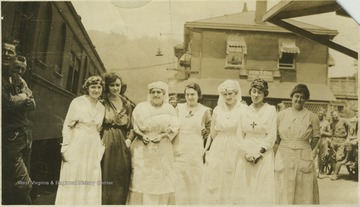 By William "Skip" Deegans
This undated photo beside the Hinton railroad passenger depot was probably taken in 1918. In the forefront are nurses and volunteers who may have been at the depot to serve food and assist the passing World War I troops who can seen behind and beside the nurses. 
The role of nurses during World War I is, perhaps, under appreciated. The American Red Cross recruited 22,000 professionally-trained nurses to serve in the U. S. Army between 1917 and 1919. Over 10,000 of these women served near the Western Front. Other American civilian nurses volunteered to serve with the American Ambulance Service and with the French army.  Remarkably, none of the U. S. Army nurses were killed by the enemy. In late 1918, nurses, here and abroad, were stretched to their limit when an influenza epidemic hit, and some 500,000 lives were lost in the United States.
This weekend Hinton celebrates its 150th anniversary and Railroad Days. The passenger depot that was rebuilt following a devastating fire in 1913 still stands and continues to serve as a station for Amtrak.
Photo: Courtesy of the West Virginia Regional History Center.
Sources: Hinton Daily News, Clio, PBS, NIH, Army Nurse Corps Assn.