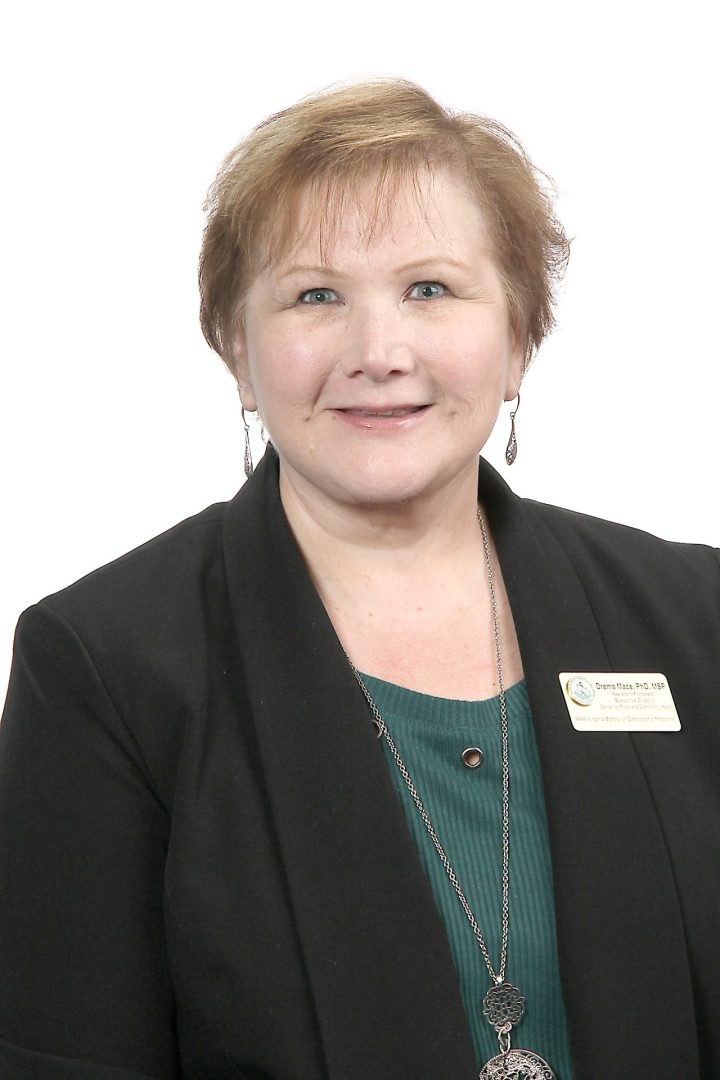 An administrator at the West Virginia School of Osteopathic Medicine (WVSOM) was honored during a statewide conference for her career as a longtime community advocate.
Drema Hill, Ph.D., MSP, WVSOM's vice president for community engagement and development, was named the recipient of the 2022 Small Communities, Big Solutions Advocate award. The Small Communities, Big Solutions Conference is hosted annually by the Alliance for Economic Development of Southern West Virginia, the West Virginia Community Development Hub and Coalfield Development.
Sara Payne Scarbro, operations council chair for the alliance, said the award recognizes Hill for working at the intersection of higher education, community workforce development, community engagement and partnerships to guide the creation, implementation and evaluation of strategies that generate health improvements. The award was one of seven whose recipients were announced during the conference.
"These awards are extremely competitive, and our awards committee likes to highlight the true change agents who are making a positive difference in the Mountain State," Scarbro said. "In her time with WVSOM, Hill has replicated 18 opioid prevention and awareness toolkits in West Virginia, created an international research project in partnership with Kilimanjaro Medical University in Tanzania and helped bring millions of dollars in funding to WVSOM. Her love for service and for our people truly embodies the best of West Virginia."
Hill said she was honored to receive the award.
"I've spent many years working to build small community infrastructure in West Virginia. My goal is for our state to be prepared to create sustainable programs to improve the lives of West Virginians. I love our small communities and I'm happy to be a part of the big solutions," Hill said.
In her role at WVSOM, Hill oversees the school's Center for Rural and Community Health, WVSOM Foundation and WVSOM Alumni Association. She has more than three decades of experience in public health leadership, including positions with the West Virginia Bureau for Public Health, the Tennessee Department of Health, Vanderbilt University's Health Management Foundation and Comprehensive Care Center, and the Mid-Ohio Valley Regional Health Office.
Hill joined WVSOM in 2016 and became one of the school's seven vice presidents in 2019. James W. Nemitz, Ph.D., WVSOM's president, praised Hill for her work at the osteopathic medical school and for her dedication to helping improve the well-being of residents of rural area.
"Dr. Hill has been an enduring positive presence in the field of rural health," Nemitz said. "As a trailblazer in making West Virginia's communities healthier places to live, she has led many successful local and state initiatives and programs, and she has done a great job of representing WVSOM on a broader scale at national and international gatherings of rural health leaders. I'm pleased that her important work is being acknowledged through this award."
The Alliance for Economic Development of Southern West Virginia is a consortium of 10 public higher education institutions in the state's southern region, including WVSOM, focused on fostering an environment for economic growth. Its Small Communities, Big Solutions Conference, showcasing successful projects and highlighting those who are bringing change to West Virginia, took place Nov. 15-18.