By Sarah Richardson
After 48 years of business, True Value is closing their doors this October. A staple to the Greenbrier Valley, True Value has been providing hardware and other supplies to the area since the 1970s.
While it's hard to imagine the True Value building housing anything else after nearly 50 years of operation, the location has an even deeper history with the area. Brian Dotson, the current owner, explained the building "actually used to be a dairy, they sold milk and ice cream and things like that. At first he just sold paneling and a little bit of hardware, then they remodeled the store and took out all of the big freezers used by the dairy. That was pretty wild, you could see that the walls were all insulated with cork."
Dotson's father, Ken "Kenny" Dotson, opened the store in Lewisburg in 1972 after being interested in business for most of his life. Brian now owns the store, as well as their equipment rental facility in Fairlea.
"My dad grew up around Lewisburg on Stonehouse Road on his parent's farm," said Brian. "He would tell me these stories from when he was logging on the farm and then selling the logs. He would also go down south and get fruit and bring it back to sell it. He always liked business and sales. He went to the Greenbrier Military School for two years, then West Virginia University for two years and got a business degree. He then joined the Air Force until we moved back to Greenbrier County in 1968. He did excavating and built houses for a while, and then decided to open up a hardware store."
After they first opened, Brian said they sold a lot of lumber, and the front of the building was designed for customers to easily come and pick up their materials.
"On the right side of the building was a loading dock, eventually it was filled in with concrete and it became a drive through where customers could stop and get bags of concrete or lumber. Eventually that was closed in to make more room for hardware. Most of our lumber used to be down in Ronceverte next to the old bridge beside the train tracks."
Over the years the store has carried a wide variety of hardware, equipment, building materials, and more. Their popularity led Kenny to open a number of other locations, including one in Ronceverte, White Sulphur Springs, Alderson, and Covington.
"I worked at the Lewisburg store when I was in high school, as well as in Ronceverte and over in our Covington store for a while," Brian said. "At one point we had the store in Lewisburg, a decorating center in what's now the Harmony Ridge Gallery building, and stores in Ronceverte and Covington. He later closed the one in Covington and opened locations in Alderson and White Sulphur Springs. There's been six locations, plus the rental place in Fairlea."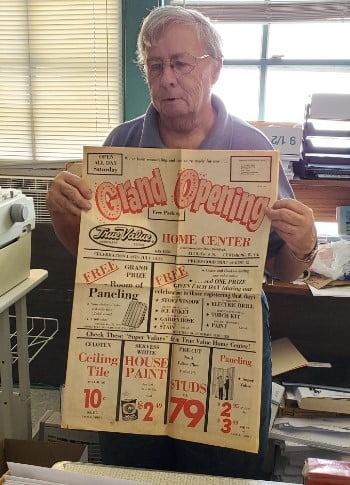 While the store itself is an important piece of Lewisburg, the dedicated employees are even more so. Pat Morris, the current manager, has a deep family history with the store as her mother, father, and husband have all worked there. Both Mary Burdette and Jim Withrow have worked for True Value for 37 years, and are sad to see it close.
"To be honest," Mary said, "I've worked at all the stores. White Sulphur, Lewisburg, Alderson, Ronceverte – it's taken a while for the news to really hit that we are closing. I've enjoyed working with everyone, as well as the customers. I've thoroughly enjoyed it here."
Jim added, "It's just, we've been here a long time, and a lot of people say that they hate to see us go. I've been here since 1987, and it's been fun being here."
When asked about her tenure at the store, Mary answered, "I could have retired 15 years ago, but I made a promise to Kenny to stay in the office."
"Since I've started working here a whole lot has changed," she added, "but not the customers. It's been them, and now their kids coming here. We still have customers that drive over from White Sulphur and even Covington. It really hurts to see it close. We're gonna miss them."
Brian specified that the closure was necessary due to market changes and other factors. "We just weren't doing that well, we were losing money," he said. "It was partly due to COVID-19, but this has been going on since before then. Things have changed a lot in 48 years. We have Wal-Mart, Lowes, Amazon – its way tougher. It's tough on everyone. Thank you to the community for supporting us for the last 48 years."
True Value's last day of operation will be Thursday, Oct. 29. Until then, all paint is 50% off, and all other merchandise is 30% off.