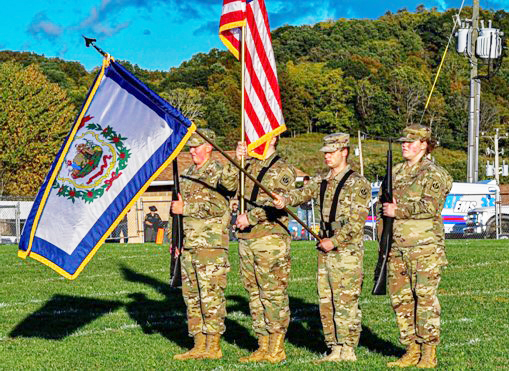 American Legion Post 100 in Union and Rowe-Jones Post 145 in Peterstown teamed up with the James Monroe High School (JMHS) Student Government Association (SGA) and Junior Reserve Officers' Training Corps (JROTC) Cadets to salute veterans and first responders at the home football game on Monday, Oct. 3.
The salute consisted of a brief ceremony before the game that included patriotic music, distribution of lapel pins and U.S. flags to local veterans and first responders, a moment of silence that ended with "Taps," and the singing of the National Anthem. Marvin Dixon narrated the event, the JMHS SGA distributed mementos and provided ushers, and the Maverick Battalion's JROTC Cadets provided the color guard.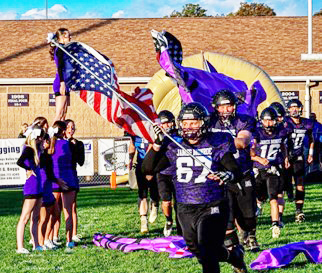 AL Post 100's Vice Commander, Lieutenant Colonel (Retired) Scott Womack, led Junior the riderless horse with boots reversed in the stirrups, to honor those who have fallen in the service of their country and community. Veterans of any era and first responders were admitted to the game free of charge and appreciate the gesture of respect made by JMHS.
The American Legion is nonpartisan and open to veterans of any branch of service and era, including those currently serving.  The American Legion supports veterans and their families, patriotism, and youth education.  If you are interested in joining us in this vital mission and assisting with programs like the one described above, contact Scott Womack at scott_womack@hotmail.com or via Facebook Messenger.