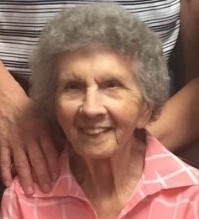 Frankford-Ruth Jean Radabaugh Foley, 97, passed away Thursday, Sept. 21, 2023.
Jean was born on May 11, 1926 to William and Ona Radabaugh in Fairmont, WV.
After graduating from East Fairmont High School, she studied Education at Fairmont State Teachers College and received a master's degree in Education from West Virginia College of Graduate Studies.  
Jean started her teaching career in a one-room school in Sutton, WV.  She and her husband, Richard, moved to Greenbrier County in 1952. After raising her children, she continued teaching for 26 years at Frankford High School, Renick Junior High, and Frankford Elementary. In 1986, Jean retired, and she and Richard started spending winters in their Naples, FL, home.
Jean was a loving mother to her four children – Mark Foley of White Sulphur Springs, Kathy Foley of Jacksonville Beach, FL, Ann Rapp of Frankford and Rita Foley of Frankford. She was blessed with two granddaughters – Brandy Rapp and fiancé George Lemon of Roanoke, VA, and Ashley Parker and husband Patrick of Lewisburg; and was delighted by her three great-grandsons, James, Jackson and Carson Parker.
Jean was an avid reader, friend to all, and a kind and generous soul.  Known to many as Mrs. Foley, she enjoyed seeing former students around town and she never met a stranger. One of her favorite pastimes was going out to eat with family and friends. Jean enjoyed being a grandmother and great-grandmother, attending as many of her grandchildren's programs and activities as possible. She was never one to turn down a road trip providing hilarious commentary along the way.
Jean was a member of the Progressive CEOS, lifelong member of the Retired School Employees Association, and the oldest active member of the Alpha Zeta chapter of the education sorority Alpha Delta Kappa. She remained active in the community into her final years. She volunteered at a nursing home, enjoyed going to concerts at Carnegie Hall, attending plays at Greenbrier Valley Theatre, and participating in classes at the Shepherd Center.
Jean was preceded in death by her husband of 69 years, who passed away in 2019; brother, Paul Radabaugh; and son-in-law, J.J. O'Brien (Kathy).
Left to cherish her friendship are her best friend since preschool, Barb Springer of Phillipi, WV, and dear friends, Pauline Perkins of Frankford and Alice Roth of Renick.
Since moving to Greenbrier County, Jean was a faithful member of Saint Catherine of Sienna Catholic Church. A funeral mass will be held in celebration of her life on Oct. 30, at 1 p.m. at Saint Catherine of Sienna Catholic Church in Ronceverte. The family will receive friends immediately after Mass at the church.
In her golden years, Jean was quick to tell anyone her age. She never thought she would live this long, but her family and friends sure are glad she did. We love you, Gram!
Please send online condolences by visiting www.WallaceandWallaceFH.com.