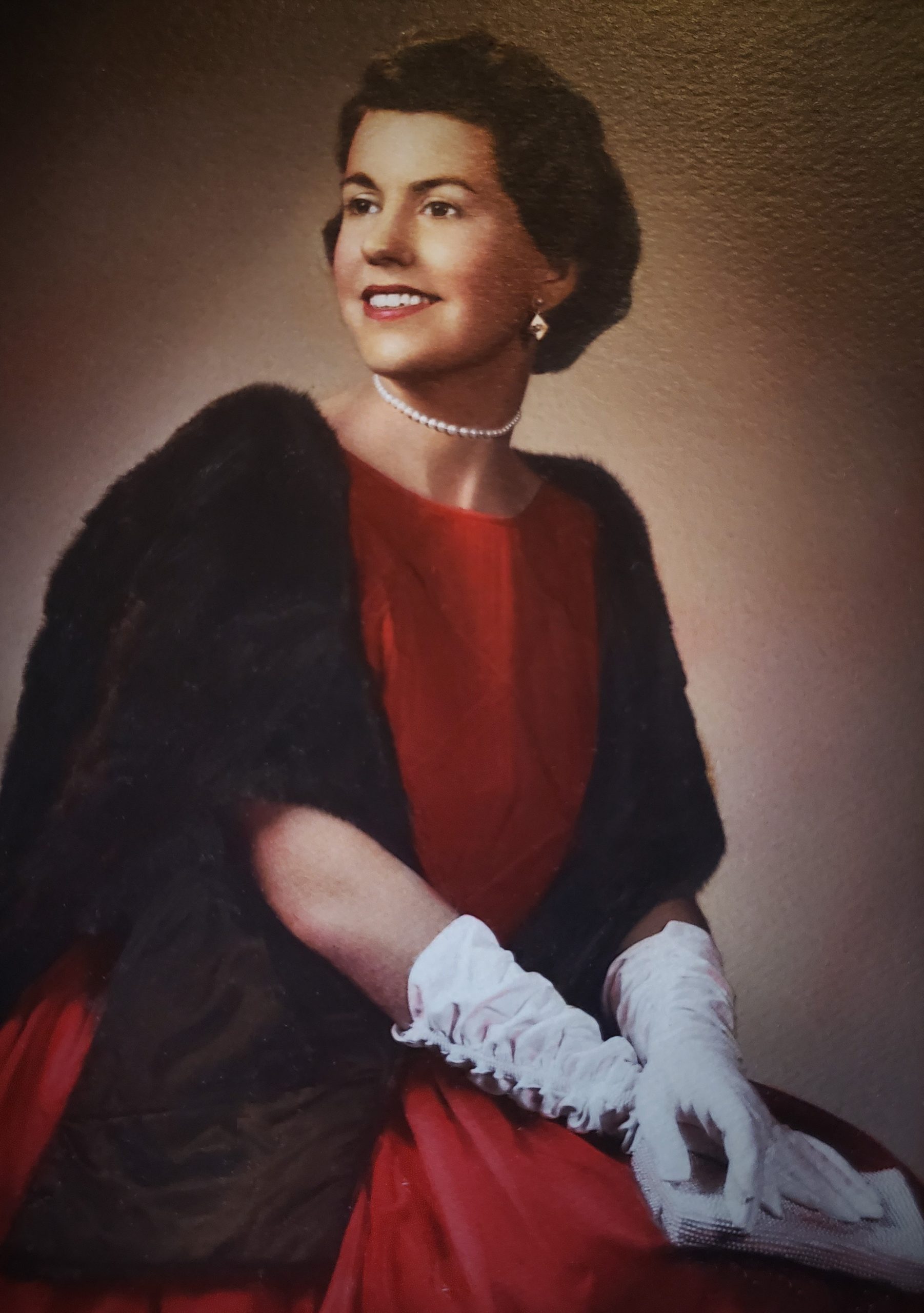 Mrs. Rosa Stephenson, 104, gained her Angel wings July 22, 2022, at The Seasons Place in Lewisburg, WV, where she had resided over the previous year. She succumbed to complications from a stroke she had suffered on July 11. She was surrounded by family. She had lived for many years, especially during the winters, with her daughter, Dr. Abigail Winters, in Lewisburg. Mrs. Stephenson was the last of her immediate family. She was the daughter of the late George Washington and America Mullins and was born on July 4, 1918.
She was preceded in death by siblings, Elbert, Mary Smallwood, Lundy, Lou Emma Wright, Georgia Byrd, Ethel Powell, George Jr., William Harvey, Juanita Chisholm, and little Barbara Ellen, lost in infancy. She was also preceded in death by her husband, L.J. Stephenson; daughter, Dorothy, and grandchildren; Rannie and Rosa Clara.
Rosa grew up in McDowell County with her 10 siblings, where her father G.W. was a successful businessman with many businesses, including a sawmill, a planing mill and a store during the Depression. She had many happy memories of her childhood. During high school, she rode the train to Iaeger. During this time, she was chosen Miss Sandy River District.
She married Leslie and began her family in Bradshaw. She ultimately had five children. She was always enthusiastically involved in her children's lives. While her daughters were attending Bradshaw Grade School she served as Home Room Mother and President of the P.T.A. She was a member of the Black Diamond Girl Scout Council of McDowell County, a Brownie and a Girl Scout Leader, and later served as a Den Mother for the Cub Scouts. She joined the Bradshaw Sewing Club. While living in Bradshaw she became a member of the Eastern Star, as her father was a Master Mason.
Being a woman of deep faith, when the Stephensons decamped to Pineville, Rosa became deeply involved in the Pineville United Methodist Church. She was a member of the executive board, served as chairman of missions, a member of the United Methodist Women and served as chairman of the Mary Magdalene Circle. She was a district officer of the Beckley District of the United Methodist Women, served as chairperson of the Christian Social Relations. Her children remember every Sunday morning getting ready for church services, no questions asked.
She was a member of the Pineville Woman's Club and was chosen as Woman of the Year in 1976, and named a Centennial Belle from the Club. She served as vice president, chairman of the finance committee, chairman of the Public Affairs Department, co-chairman of the Fine Arts Department and Conservation Department. She was active in the Cancer Crusade, Heart Fund Drive, Bloodmobile and worked in the lending library.
Rosa was a partner in the family business which owned the L & R Store and Bradshaw Home Furniture and Appliance Stores in Bradshaw, and the Pineville Fashion Shop and Pineville Mens Shop in Pineville. She grew up in the businesses of her father and loved the business life. She helped out when needed and even worked for her daughter Abigail's pharmacy when needed.
She loved The Greenbrier Hotel. She attended many conferences there when she represented the Woman's Club, Eastern Star and others. She never missed a chance to visit when she could.
She was an enthusiastic and prolific gardener, being a member of multiple garden clubs. She won many awards for her flower arrangements at various shows, presented a beautifully landscaped lawn, and planted flowers wherever she went. For about a decade, she tended a rose garden at her lake house of about 50 roses. Aphids were her enemy.
Rosa loved Scrabble. If no one was around to conscript into a game, she would play herself. Her enthusiasm spread to other family members, resulting in a multi-generational force of excellent Scrabble players. When her husband retired, they traveled all over the eastern seaboard to golf tournaments.
She loved the time she spent at her lakeside cabin in Virginia, beginning when her youngest was an infant. There were many years that entire summers were spent there, eschewing phone and tv. We enjoyed swimming, water skiing, sunning and bonfires with wiener roasts and s'mores. She forged deep and supportive friendships with neighbors on all sides. For a while, she penned an article "Claytor Lake News" for a local paper. The kids played Hide and Seek and Kick the Can in the dark. The cabin later became the location of many cutthroat Scrabble games.
She glowed with pride for her family. She really loved the little ones and they became best friends. Her home and heart were always open and she made everybody feel special. She always wanted to feed everyone, even in her last days. She was a gardener, a bird watcher, a devout reader, Scrabble player, crocheter, and she sang or hummed all the time. She was a rock, an anchor, and an oasis of warmth. She was a proud supporter of her children's passions. Everyone privileged to know her will miss her as long as memory endures.
She is survived by her children, Dr. Judith Fast, Houston, TX, Dr. Abigail Winters, Lewisburg, Dr. Leslie Stephenson (Jim) (Judy), Raymond, ME, and George Stephenson (Paki) (Kathy), Dublin, VA; grandchildren, Stephanie Rigby, Lisa Fast, Mingo Winters, Maranda Daniels, Matoaka Winters, Siobhan Winters, Kristie Costa, Trista Gage, Jeremy Gage, Devin Stephenson, Joe Stephenson, and Shanley Hypes; great-grandchildren, Ed, Jessye (and baby), Gabe, Charlie, Brighid, James, Madison, Eli, Nadine, Logan, Tais, Odin, Alessio, Owen, and Tucker. She leaves behind a plethora of loving nieces and nephews.
She lived for this: "I expect to pass this way but once – any good therefore that I can show to any fellow creatures, let me do it now. Let me not defer or neglect it for I shall not pass this way again." –Etienne de Grellet
A private memorial and graveside ceremony are planned, and in lieu of flowers, please make donations to the Pineville United Methodist Church. Also, in keeping with her servant's heart and love for children we ask that donations be made to Lunchbox276, a nonprofit founded by her granddaughter, Maranda, to combat childhood food insecurity. Donations may be made online at Lunchbox276.com or mailed to P.O. Box 178, Wise, VA 24293.
Those that knew her were blessed with her kindness, we hope you will experience a similar person in your life. She was always an Angel, now she has her wings!