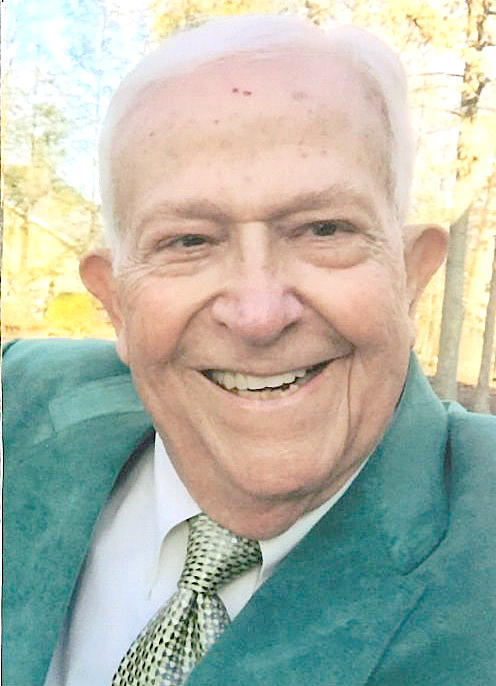 Lewisburg-Robert Lee "Bob" Riley, 88, passed away Wednesday, July 7, 2021, at home with his wife and sons by his side.
He fought a 19-month-long battle with esophageal cancer. 
Bob was born in Charleston, WV, on Oct. 5, 1932, to Hubert Clive "H.C." Riley and Beulah Margaret Arthur Riley.
He graduated from Stonewall Jackson High School in 1950 and from West Virginia University in 1954. At WVU, Bob was a member of the wrestling team and Sigma Chi Fraternity. He was a 32nd Degree Scottish Rite Mason and a Christian.
Bob grew up in Charleston but spent his summers with his maternal grandparents in Gap Mills until age 16. He loved his summers in Gap Mills and made life-long friends and many wonderful memories.
After graduation from WVU, he followed his father's footsteps into the retail business as a buyer at The Diamond Department Store in Charleston and later as a Merchandise Manager at the A.W. Cox Department Stores in Charleston. In 1961, he opened a new store for Cox's in White Sulphur Springs. He made many friends while living in White Sulphur and those friendships continue today.
In 1966, he made a career change and joined Northwestern Mutual Life Insurance Company as an agent in Charleston. While at Northwestern, he became a Chartered Life Underwriter and Life Member of the Million Dollar Round Table.
In 1979, he was appointed General Agent for Massachusetts Mutual Life Insurance Company for the State of West Virginia. He built the Agency to 42 agents and his Agency led the Company in the sale of pension products two consecutive years. He retired from Mass Mutual in 1993.
Following retirement, Bob and his wife Sharon, built a home in Lewisburg and lived in Florida during the winter months for 27 winters always returning to their beloved WV home in the spring.
Bob loved the out-of-doors and hunted and fished from boyhood. Over the years, he made multiple fishing trips to Alaska, Montana, Canada, and with friends on Lake Erie. A dedicated native brook trout fisherman, few people knew as many native brook streams in WV as Bob. He loved to grouse hunt and had bird dogs for over 60 years and loved them all, especially his Brittanies.
He possessed a marvelous memory; and recalled past events in detail going back to childhood. A people person, he loved and cherished his friends. He was proud to have many friends for over 80 years.
One of his proudest accomplishments was, after 19 years of retirement, being honored by his former agents and employees with a surprise 80th birthday celebration. Afterwards, Bob said, "That evening was the biggest payday of my life."
He worked hard during his lifetime and handed down to his sons a work ethic and value system by which to lead their lives. He took great pride in all of his sons and immense satisfaction in seeing them succeed in life.
Survivors include Sharon, his best friend and loving wife of 37 years and their precious Brittany, Abby; four wonderful sons, Mike (Sigrid) of St. Albans, Patrick (Patty) of Ponte Vedra, FL, Jeff (Ellen) of Jacksonville, FL, and Craig (Amber) of Bridgeport; his eight cherished grandchildren, Caleb, Rhys, Jacob, Jesse, Noah, Josh, Evie, and Jack; his beloved sister, Margaret Ann Simpson of Charleston, and her daughters, Amy, Kelly, Stacy, Shelly, and Lori.
He was preceded in death by his parents; a brother, Jackie Clive Riley; and brother-in-law, Charles "Chuck" Simpson.
A Celebration of Life will be held on Saturday, July 24, at 11:30 a.m. at Lewisburg United Methodist Church in Lewisburg, with a reception to follow.
In lieu of flowers, the family requests gifts be given to HospiceCare, 1265 Maplewood Avenue Lewisburg, WV 24901.
Wallace & Wallace Funeral Home in Lewisburg is in charge of arrangements. Please send online condolences by visiting www.WallaceandWallaceFH.com