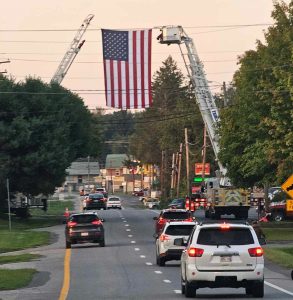 By Sarah Richardson
The eighth annual Parade of Lights was held on Monday, Sept. 11, in Fairlea, the 22nd anniversary of the September 11, 2001 terrorist attacks. Local first responders lined up on the midway at the West Virginia State Fairgrounds before taking off at dusk on their parade route.  A slew of fire trucks, ambulances, police cars, and other EMS vehicles drove from Fairlea to the Lowes in Lewisburg and back. The Greenbrier County Fire and Emergency Responder's Association hosts the event each year to honor those who lost their lives in the 9/11 attacks, as well as emergency responders across the Greenbrier Valley.
Before the candlelit vigil after the parade, Rev. James Hylton, a recently retired fire and rescue employee, spoke to the crowd about those who are still suffering both mentally and physically from the 9/11 events, and reported that the death toll from 9/11 continues to rise.
"I want you to remember why we're here tonight," said Rev.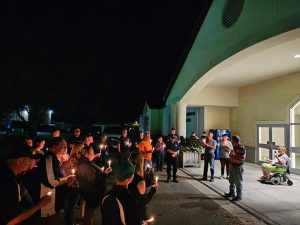 Hylton. "We are here for everyone who passed away 22 years ago today from 9/11. This terrible, terrible incident rocked America, and is still rocking us today. It will continue to rock us after we're gone. A lot of people say, 'How's that?' and it's because people are still suffering. And one of the things we've got to look at is they need our prayers."
The vigil closed with the playing of Amazing Grace and Taps.