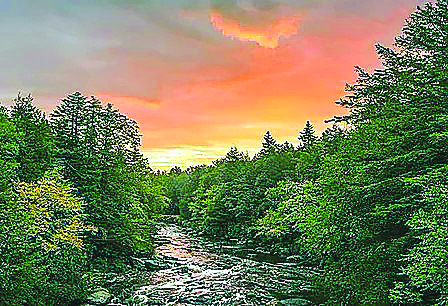 Have you ever been disappointed with the photos you come home with after a vacation?  The shot from that scenic overlook didn't quite capture the feeling of awe that it evoked in person. Carnegie Hall is excited to announce that it now has a new class for its 2022 Fall Classes & Workshops Series – Introduction to Digital Landscape Photography with Jesse Thornton. 
In this class students will cover all the basic knowledge of how to operate a camera and take better landscape photos. There will also be a brief introduction into long exposure photography. Students will put that knowledge into practice and take some photographs around the grounds of Carnegie Hall.  Although the class will be focusing on landscapes specifically, it will give you a necessary foundation to begin working in any area of photography. All students need to bring is a digital camera that is capable of shooting in Manual mode (M); this will include any dSLR, mirrorless and most point and shoot cameras. A tripod is recommended but not at all necessary.
Teaching Artist Jesse Thornton is a photographer who was inspired in 2014 to pick up a camera as a simple excuse to get out of his comfort zone, travel more, and document his journeys. He quickly became obsessive about the art of photography and addicted to traveling. He has traveled extensively but is still most inspired by his home state. Influenced by fantasy and science, his aim is to capture the surreal nature of these landscapes in hopes of encouraging others to discover the beauty of West Virginia.
Introduction to Digital Landscape Photography will be held on Saturday, Nov. 5, from 1 to 4 p.m. Registration is $75 for members and $80 for nonmembers. Students must be 16 years of age or older and class size is limited so sign up early.
For a complete list of classes and workshops and to enroll visit carnegiehallwv.org/classes-and-workshops or pick up a Classes & Workshops brochure at 611 Church Street, Lewisburg.
Carnegie Hall is a nonprofit organization supported by individual contributions, grants, and fundraising efforts such as TOOT and The Carnegie Hall Gala. The Hall is located at 611 Church Street, Lewisburg. For more information, please call 304-645-7917 or visit www.carnegiehallwv.org.