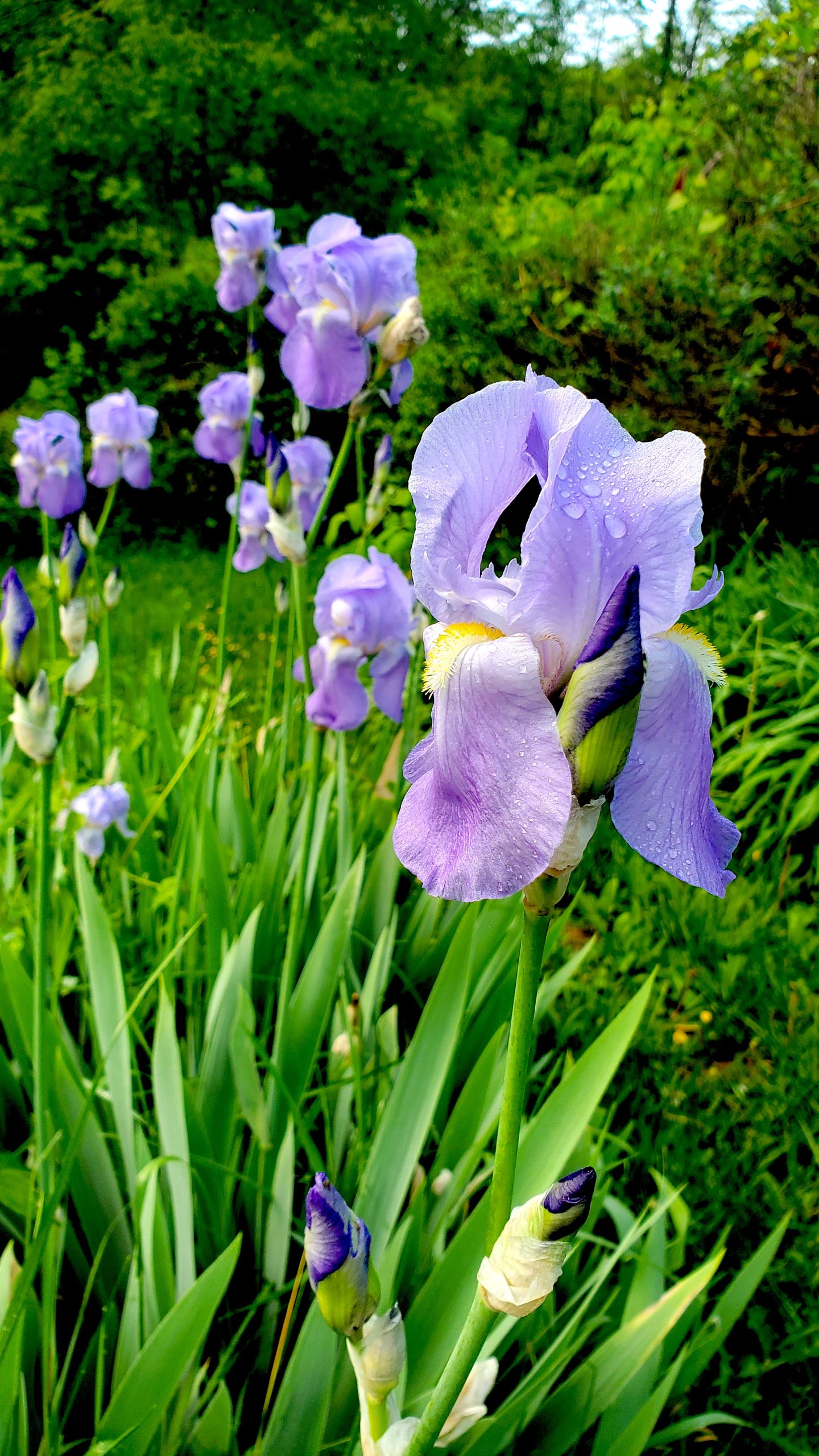 By Karen Cohen  
Divide and Conquer 
This month I tackle my perennial flower beds. This chore is delegated by outside temperatures and must be completed before the first frost sets in. Division of perennials is big on my list and fall is the time. Newly planted bulbs and tubers need a good month before frost to get their root system established. Here are the first two chores on my fall garden list! 
Plant more daffodils 
Every year for the past ten years or so, I have ordered and planted 25-50 assorted daffodil bulbs in the fall. The ground is still soft and I can dig a 3-6 inch hole every 5 inches and then plop in a daffy bulb, pointy side up. Planting depth is based on the size of the bulb. I like to plant these bulbs in groupings of 6-8. I select sunny spots around the house, the driveway and even on the forest edge to plant daffodils. The best quality of daffodils is a toxic liquid in their bulbs and stems which repels deer. The four leggeds have never ever eaten any of the scores of daffodils strewn around my property. Spring is glorious with yellow blooms and that's an understatement. Just when the snow is still hanging around, Narcissus (the Latin name for daffodils), are a happy surprise that signals winter is over. 
Daffodils spread naturally underground slowly but surely. Division is not necessary but if you wish to propagate new areas with daffys, wait until the leaves die down but not completely brown in late summer and dig out in small clumps; small nicks won't hurt them. Separate each bulb and then replant them in your new spot. It helps to thin the bulbs this way to help keep blooms coming year after year. My favorites: Pheasant's eye, spicy fragrance, white petals and deep green centers. Sorbet has large ivory blooms with splashes of orange and deep yellow. 
Divide Iris and Peonies 
It is important after irises and peonies have bloomed to allow their leaves to yellow and die down on their own for storage of energy. If garden areas grow crowded, blooms may taper off. That's when it is time to divide your plants. Every 3-5 years for irises is a time frame to remove some of the crowded plants to give them more room to spread. 
Use gloves and a sharp spade or garden fork to lift up iris tubers. Iris rhizomes sit on top of the soil when properly planted and are easily visible. If a bunch of tubers have clumped together, take your sharp spade and just slice into the bunch, lift and then carefully pull each tuber apart. You don't have to worry about cutting straight into tubers, they are tough and will sprout new growth. With the leaves intact, cut each leaf down to about 3 inches above the tuber. 
Now they are ready to be placed into new areas that you would like to grow irises or give extras away. I once casually tossed some tubers down a hillside and found them growing straight up the following year and flowering, too! This plant does not want to be buried under soil and will not grow that way. Just scratch out a bit of soil, lay the tuber down, and push up some soil around it to hold it in place. I cover each tuber with a bit of dried leaves to keep the soil moist and that's it. Irises require zippo care, just water them in and then ignore them. They are spring bloomers and are winter hardy in our climate so they can stay in the ground and spread slowly. 
I discovered that while many plants cannot grow around walnut trees due to a chemical produced called juglone that leaches into the soil, irises are not affected by this at all. I surrounded unsightly, dead walnut stumps with Irises to form attractive circles of spring bloom. 
Favorite varieties: Dutch Iris blooms are fan shaped flowers in a range of colors and stand about 2 ft tall. Spring blooming. This fall I ordered "Metallic Dutch Iris Mix" which promises blooms of purples/maroons with yellow splashes. Deer resistant, perennial, and great for cut flowers.
Next up are peonies. These can live up to a century if all conditions are right. According to research, they can live up to fifty years without any division at all. When a well established peony bed has grown crowded or if you want to spread the goodness around to other areas, fall is the best time for this chore. Pick a grouping and cut the leaves/stem close to the ground. Carefully lift the tuber with roots intact. You can use a knife to cut big clumps and be sure to keep at least three buds on each crown. 
Prepare a new sunny plot with compost and spread the roots and stem into the soil. Newly planted peonies may take 2-4 years before blooming, so patience please! Plant with the "eyes" (buds) facing up. They do not like to be buried deep under the soil, two inches deep is fine. If your peonies were/are planted too deep, they may not bloom. Give new plants some water and you can top dress with chopped leaves, just a sprinkling to keep the soil slightly moist but not damp. 
My favorites: Paeonia Armani (pricy) dark burgundy red double blooms with ruffled petals. Paeonia Sarah Bernhardt fragrant, blush tones, 9 inch blooms. 
What determines a good planting site? Good drainage is important. Bulbs and such do not like to sit in soggy soil. It will cause them to rot. Sunlight is mandatory unless you have flower varieties that require shade or are shade tolerant. Next week: Tips on cannas and gladiolus! 
(Karen Cohen gardens without toxic pesticides or herbicides. You can do it too! Email your questions, tips and comments to: natureswaykaren@gmail.com)