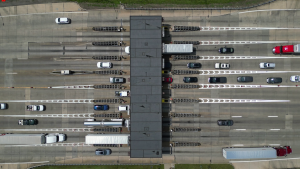 More than 420,000 total transactions were made on the West Virginia Turnpike during the Labor Day holiday weekend from Friday, Sept. 1 to Monday, Sept. 4.
The 422,544 total transactions among the three toll plazas on the Turnpike were right in line with estimates.
"Operations ran as expected as traffic numbers were what we thought they would be," said Jeff Miller, executive director of the West Virginia Parkways Authority. "Peak travel times were Friday late morning and continued late into evening. Saturday and Sunday were relaxed compared to Friday and Monday. Peak travel times on Monday started earlier in the day and lasted throughout late afternoon and early evening."
On Friday, 142,647 transactions were made, compared to 93,896 on Saturday, Sept. 2. On Sunday, Sept. 3, 76,082 transactions were completed. On Labor Day, 109,919 transactions were completed.
"I'm proud of all of the operations that contributed," said Miller. "We're ensuring the safety of the patrons on the Turnpike. A lot of our men and women do not get the luxury of enjoying the holiday at home with loved ones. We are proud of them and the work they did."