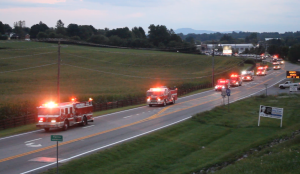 By Sarah Richardson
The eighth annual Parade of Lights is scheduled for Monday, Sept. 11, 2023, the 22nd anniversary of the September 11, 2001, terrorist attacks. The parade, which honors those lost in the attacks, and emergency responders across the Greenbrier Valley, brings out a huge number of vehicles from throughout the county to the grounds of the State Fair of West Virginia.
Organizer Jeffrey Doss said that the event will begin at 5:30 p.m. on the midway of the fairgrounds, where there will be a show and tell of emergency equipment. This includes emergency vehicles and other equipment, and the landing of the HealthNet helicopter. There will also be the Greenbrier County Sheriff's Department Kids' ID Trailer on site.
While there isn't an exact start time to the parade, each year it sets off from the fairgrounds at dusk so those watching can see the lights on the vehicles shine. The parade route leaves the fairgrounds on Rt. 219, passes by McDonald's, goes through Fairlea to Lowes, and circles back through Fairlea to end at the starting point. After the parade a candlelight vigil is held at the Cecil H. Underwood Building.
This event is sponsored by the Greenbrier County Fire and Emergency Responder's Association.