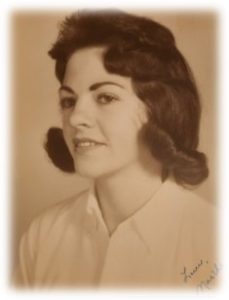 Lewisburg-Martha Elizabeth Graham, 81, of went home to be with the Lord Monday, Oct. 30, 2023, at the Lewisburg Healthcare Center.
Born Jan. 9, 1942, in Vago, she was the daughter of the late Emory and Mary Seldomridge and father in-law, John McKinley Graham and mother-in-law, Thelma Graham of Covington, VA.
Martha loved gardening and antiquing.
In addition to her parents, she was preceded in death by her husband, David Graham; brothers, Tom, Andy and Bob Seldomridge; sister, Margaret Allen of Craigsville, WV; and brothers-in-law, Paul, Charles, John and Joe Graham of Covington, VA, and Kenny Dodd of Lewisburg; and sister-in-law, Frances Graham of Covington, VA.
Survivors include sons, Scott Graham (Julie Wood) of Lewisburg, Shawn Graham (Denise) of Lewisburg; daughter, Sharon Graham (Tom McAfee) of Monroe, GA; two grandsons, Ethan Graham (Calianna)  and Tyler (Ashtyn) Graham of Lewisburg; and great-grandchildren, Asher, Camryn and Ivy Graham of Lewisburg; along with numerous nieces and nephews; brothers, Walter (Sally) Seldomridge of Maxwelton, Bill (Judy) Seldomridge of Jackson Springs, NC, Danny (Inga) Seldomridge of Renick; sisters, Genevieve Dodd of Lewisburg, and Anna (Jim) Hoover of Lewisburg; brother-in-law, Ed Allen of Craigsville; and sisters-in-law, Joyce (Stuart) Roberts of Covington, VA, Ramona Graham of Callaghan, VA, Patty Graham of Callaghan, VA and Rosalee Martin of Lowmoor, VA.
Funeral service was held on Thursday, Nov. 2, at the Morgan Funeral Home in Lewisburg, where Pastor Everette "Hat" Defibaugh officiated. Visitation was at the funeral home prior to the service. Burial followed in the Greenbrier Memorial Gardens cemetery in Lewisburg, WV.  
The family would like the staff of the Lewisburg Healthcare Center, Ronceverte, for the wonderful care provided.
Online guestbook may be signed at www.morganfh.net. Arrangements by Morgan Funeral Home, Lewisburg, WV.