Lillie King, an emerging 17-year-old dramatic pop vocalist and songwriter from Lewisburg, will premier her breakthrough debut via Mon Hill Records titled Red on Friday, Oct. 30. This lead track from her forthcoming self-titled EP, finds her landing a cheeky, clap-back lyric about a relationship's breaking point positioned among supportive female backing vocals and a brass line that brings the fire of a lost love.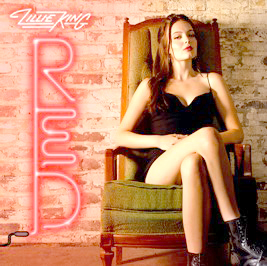 "Red is one of those songs that you want to dance to, but at the same time, you want to sit down and really listen to so you catch all of the little intricacies in the music," says Lillie. "Almost all of Red was recorded in a single day – starting with the base instrumental and moving all the way up through the lead vocal to background vocals. I have always connected to Red so strongly because there is one clear message – you messed up and I'm moving on without you. Need a breakup song? Red. Need some motivation? Red. Want to dance? Red. It's all in there, and this song will always be there for any mood you might be in."
Red will premiere at all online retailers on Friday, Oct. 30. While this release marks her industry debut, even at age 17, Lillie has landed applaudable accomplishments performing on the Carnegie Hall and on the Professional Theatre of West Virginia stages. At the core of her music, you'll find a foundation of Van Morrison and Carole King, while her sound would land on playlists between Lady Gaga's Joanne project, Beyonce's Love on Top, Adele and Lake Street Dive. Pursuing dual passions, Lillie is equally as talented on the theater scene already logging over a decade of experience.
About Lillie King:
Lillie King is a teen singer, songwriter and performing artist from Lewisburg, WV. With a decade of live theater experience already under her feet, Lillie was inspired to pursue a career in singing and songwriting. This distinctive, dramatic pop and adult contemporary artist developed her musical influences from her parent's '70s classics, new-age Indie rock and piano ballads. She has already amassed a performance at Carnegie Hall, the Professional Theatre of West Virginia and is a regularly featured actress in many Equity productions. While honing her craft among the programs at The New York Film Academy, Lillie would land a milestone opportunity when she won "Talent West Virginia" in 2019. Consequently, she was awarded a recording contract with Mon Hills Records. Her debut from those sessions, Red, is due to be lighting up the pop scene on Friday, Oct. 30 with a full, self-titled EP slated for November.