Monday the Knights welcomed Shady Springs Middle to Eastern Greenbrier. The Tigers were over an hour late in arriving to the match. The late start did not deter the Knight JV team, as they took the powerful Tigers in three sets.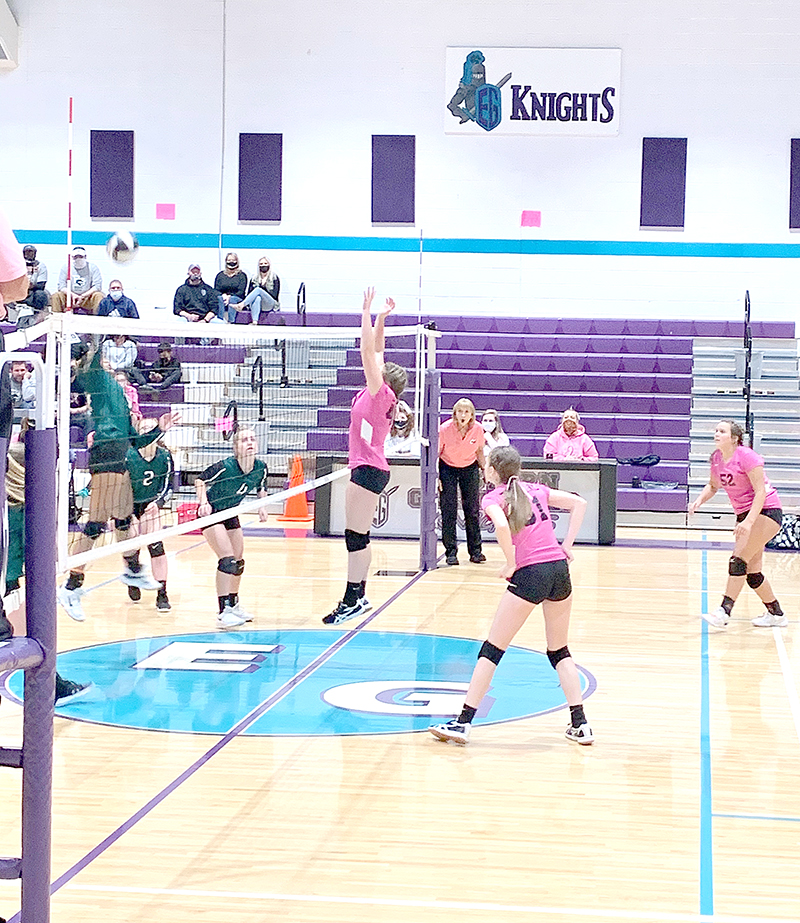 The first set belonged to the Knights as they were determined not to lose, winning in extra frames (28-26). The second set was equally as close with the Knights coming up just a little short (22-25) and then Shady began to pull away in the third winning (25-9). It was still a very impressive effort for the JV Knights.
Leading in hits and assists were Norah Ambler and Mackenna McClure.  Maddie Podsiadlik, Kate Lehman, Campbell Bundy and Lyla Smith each had 1. Passing was a group effort with Mackenna McClure, Norah Ambler, Maddie Podsiadlik, Laney Depriest, Kate Lehman, and Campbell Bundy leading the way. Mackenna McClure had a kill and capped off the first set serving the last 2 points. The overall serving belonged to Maddie Podsiadlik with a phenomenal night serving 20 of 21 attempts. She could not be deterred. Despite Shady's multiple time outs and player substitutions, Maddie just kept on serving and serving.
The varsity Knights lost to Shady in two sets (7-25) (16-25). Leading hitter was Haley Workman followed by Jenna Groves, Mollie Pack and Haley Byars. Assist leader was Hailey Ervin with 8 and Haley Workman with 6. Serving leaders were Mollie Pack, Haley Workman, and Maddie Podsiadlik. Passing leaders included Mollie Pack, Hailey Ervin and Allyson Martin.
The Knights were scheduled to make a trip to Mt. View in Union on Wednesday, but due to COVID the match was cancelled.
The Varsity Knights completed the week by hosting two teams in their annual Dig Pink Tournament. Normally the event would host several teams from all over the State of West Virginia. This year was reduced in size due to COVID. The first match was against Independence. The Knights won in two sets (25-22) (25-18). Haley Workman led in kills with Mollie Pack and Aundraya Simmons close behind. Assists were a team effort with Haley Byars leading with 11, Natilee Wellman with 8 and Hailey Ervin with 6. Passing leaders were Haley Byars with 10, Hailey Ervin and Haley Workman with 9 digs a piece, and Allyson Martin with 6.
Serving leaders were spread across the board with Mollie Pack, Hailey Ervin, Haley Workman, Jenna Groves, and Allyson Martin Leading the way.  The middle game pitted Independence against Park Middle School.  Park took the match.
The final game pitted Park against Eastern. The Kinghts played well, but not well enough to take Park, losing in both sets (19-25). Haley Workman once again led in the hitting category with Jenna Groves, Mollie Pack, Haley Byars and Aundraya Simmons contributing nicely. Haley Byars and Natilee Wellman loaded up the stat sheet with double digits assists. Jenna Groves had 2 blocks and Natilee Wellman had 1. Serving was evenly distributed with Workman, Martin, Ervin, Pack, Groves, Byars, Simmons and Jacobs doing a nice job behind the line. Passing was led by Haley Workman, Karma Jacobs, Hailey Ervin, Allyson Martin and Mollie Pack.
The next week will conclude the season for the Knights. They will play at Western Greenbrier on Tuesday and conclude their season on the road at Greater Beckley Christian. The overall records stand at Varsity (8-5) and JV (6-5).