By Lyra Bordelon
With the first 2021 legislative session now over, lawmakers are now returning home and Governor Jim Justice is considering which bills to sign.
On Wednesday, April 21, Justice held a press conference to sign three bills, two of which were sponsored by Greenbrier County representatives. The first bill, S.B. 634, was sponsored by Greenbrier County Senators Stephen Baldwin and Jack Woodrum.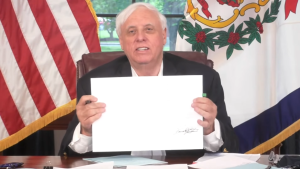 "It's requiring training for certain officers for persons with autism spectrum disorder," explained Justice. "The bill requires law enforcement and correctional officers to be trained on the best way to interact with those with autism. Research has shown that interactions with law enforcement [for these individuals] can be dangerous. [Officers] without training come to opinions that can lead them to suspect because the behavior may be something they can't pick up on. Now our first responders will receive the proper training on how to recognize and react to those with autism or other mental health issues."
Justice also noted his nephew is part of this population and called him a "wonderful" young man.
Both other bills highlighted as successes by Justice deal with healthcare, with H.B. 2263 being hailed as being the first of its kind in the country.
"[H.B. 2263] will lower the prescription drug costs for an individual on commercial insurance plans," Justice said. "West Virginia will be the first state, I love it, doesn't that always have a good ring to it, the first state in the country to require drug discounts or rebates negotiated by insurance companies for patients to actually be passed on to patients by requiring insurance companies to share the savings they receive in the form of rebates from drug manufacturers. … With this bill, West Virginia will lead the country in lowering prescription drug prices for many of our residents. I'm ready to do my part and sign this bill so we can help thousands of West Virginians afford prescription drugs."
The Woodrum-sponsored S.B. 714 was the final bill signed.
"This bill expands the scope of the practice of physician's assistants, allowing them more freedom to work with their collaborating physician to provide care in line with their education, training, and providing that the provision of such care … should be fairly reimbursed by physicians and other health claims," Justice said.
With the close of the session, a look at the West Virginia Legislature website provides a detailed list of bills passed in this session. Unless otherwise noted, the bills listed here were approved with a yea vote from each Greenbrier County representative and are effective either from passage or 90 days from passage:
Senator Stephen Baldwin
– S.B. 335, revising the WV Invests Grant Program for students at accredited community and technical college, was approved.
– Cosponsored by Woodrum, S.B. 359 requires law enforcement officers, when they write a report on a crash that causes damage to any fence that could contain livestock, to "make a reasonable attempt following the accident to contact the landowner that owns the fence." Passed by the Senate on March 2 with yeas from Baldwin and Woodrum, then in the House on April 6 with amendments 99-0. The Senate then passed the bill and amended the title in a 28-0 vote, with Baldwin and Woodrum voting yea.
– S.B. 344, changes guidelines around credit for "qualified rehabilitated buildings investment," including providing for carryback and carryforward provisions for the tax credit, eliminating the termination date of the tax credit, and eliminating the maximum allowable amount of the tax credit. The bill passed with only one nay house vote.
– S.B. 392, creating a penalty for impersonating law-enforcement officers or officials, was approved.
– S.B. 626, setting new rules around scrap metal and catalytic converters, including a requirement that "person in possession of a catalytic converter which had previously been installed on a motor vehicle, or parts, thereof shall have … written documentation of ownership or authorization." Violating this provision could mean a year incarceration or a $1,000 fine.
– S.B. 717, "supplementing and amending appropriations of public moneys out of the Treasury in the State Fund, General Revenue" was passed without a nay vote in either house.
Delegate Barry Bruce
– H.B. 3078 deals with the "powers and duties of the parole board, providing as a new parole eligibility requirement the successful completion of certain rehabilitative and educational programs during incarceration, that an inmate who is unable … to complete the required rehabilitative and educational programs … may be granted parole under certain conditions, and more."
– H.B. 3304 was passed, "creating an expanded required work release pilot project within the Division of Corrections and Rehabilitation, … limiting programs to no more than five locations, … directing the commissioner to establish policies and procedures; and providing for the  return offenders who do not successfully complete work release to other facilities," and more.
Delegate Todd Longanacre
– H.B. 3311 was passed with only one nay vote in either house. The bill deals with "the cost of medical records, requiring that the cost of obtaining a medical record may not exceed a fee consistent with HIPAA, and providing clarifying technical changes."
– H.B. 2982, also known as the Second Chances at Life Act of 2021, requires information about the process of chemical abortion be provided to a woman when a chemical abortion process [is] initiated and second drug is contemplated to be used at a later time and more relating to abortion.
– H.B. 2874, providing waiver of initial business registration fees and certain annual business fees to businesses owned by active-duty military members and the spouses of active-duty military members or veterans, was passed by both houses without a single nay vote.
The fourth Longanacre sponsored bill to become law, H.B. 3293, is the transphobic bill barring transgender women from competing in middle school, high school, and college sports. The bill passed with a 80-20 yea-nay vote in the House, Bruce and Longanacre voting in favor, and an 18-15 vote in the Senate, with Baldwin voting nay and Woodrum voting yea.
The new law could cost West Virginia future competitive sports events – recently the National Collegiate Athletic Association released a statement in support of letting transgender youth play, citing policies already in place.
"Our approach … embraces the evolving science on this issue," reads the statement. "Inclusion and fairness can coexist for all student-athletes, including transgender athletes, at all levels of sport. … When determining where championships are held, NCAA policy directs that only locations where hosts can commit to providing an environment that is safe, healthy and free of discrimination should be selected. We will continue to closely monitor these situations to determine whether NCAA championships can be conducted in ways that are welcoming and respectful of all participants."
Longanacre also grew criticism from a delegate he mentioned in a recent GOP town hall in Ronceverte. According to The West Virginia Daily News, Longanacre said "We have your best interests in mind. We're not going to agree on everything. There's a couple votes that went out that were very tough for me to take, and probably the same for some of these other folks in here. … And if that didn't work, I just watched what Delegate (Danielle) Walker from Mon County did, and if she voted red, then I voted green."
Walker, in a social media post, pushed back against his comments.
"As many of you scream and attempt to scold the theory of each of us not working together," Walker wrote. "Please keep that same energy and send a message to Delegate Longanacre. This is how we govern. The only black female legislator is the topic of discussion during a GOP meeting in Greenbrier County. … I never was an only green vote or only red vote. Here's the call in. Why say my name? Are you sexist? Are you racist? Are you both? … Delegate Longanacre, please don't be upset that I didn't want any of your oatmeal cookies you offered or your discriminatory rants. Please think about having a conversation with me. I will still answer the calls and emails from your constituents that you seem to ignore or try to hush!"
Senator Jack Woodrum
– S.B. 9 pushes requirements for the Licensed Racetrack Modernization Fund back from June 30, 2020, to June 30, 2030, and makes other technical changes. Although it initially passed the Senate on February 16 with yeas from Baldwin and Woodrum, the bill was revised before passage by the House (63-34-3, nay Bruce and Longanacre) and again by the Senate (21-13, yea Woodrum, nay Baldwin).
– S.B. 10 changes the date annual racetrack tables game license renewals fee is to October 1. Passed by the Senate on February 16 with yeas from Baldwin and Woodrum. The bill was then passed by the House (80-17-3, nay Bruce and Longanacre) on March 23.
– S.B. 270 mandates a hotel "marketplace facilitator shall be responsible, on behalf of the hotel or hotel operator, for the collection and remittance of the tax imposed by any municipality or county." This would include businesses such as AirBnB, something touched on by the Greenbrier County Convention and Visitors Bureau in several meetings.
– S.B. 361, extending supervision for conviction of soliciting minors and using obscene matter with intent to seduce minors, was approved.
– S.B. 372 sets criteria for graduating medical professionals for a clinical training residency program when accreditation is not available and provides other considerations for graduating clinical training. In each of the votes called for this bill, no delegate or senator voted against it.
– S.B. 421 allows the Commissioner of Workforce West Virginia to create "up to 100 positions of the offices of WorkForce West Virginia" who "shall serve at the will and pleasure of the commissioner."
– S.B. 429 exempts the Division of Emergency Management from requirements around contracts for purchase of commodities or services and allowed the Agency for Surplus Property to transfer funds "generated from the sale of vehicles, other equipment, and commodities belonging to the West Virginia Division of Emergency Management" to a special revenue account.
– S.B. 458, modifying and limiting the power of government entities regarding the possession of firearms and related products by individuals during a declared state of emergency, was approved.
– S.B. 469 would allow for a notary public to notarize a document over "communication technology" under certain conditions. Now enacted, the bill passed both houses without a single nay vote.
– S.B. 486, relating to powers and duties of Chief Technology Officer, was passed.
– S.B. 488, dealing with distribution of hotel occupancy tax to convention and visitor's bureaus and prohibiting the authorization of a new convention and visitor's bureau that does not satisfy certain requirements, passed.
– S.B. 587 prohibits government officials from entering contracts with certain conditions, such as clauses that indemnify or hold harmless any entity, agree to binding arbitration dispute resolution process, limit liability for direct damages for bodily injury, death, or damage to property caused by the negligence or willful misconduct of such person's employees or agents.
– S.B. 668, creating the Psychology Interjurisdictional Compact, allowing permitted psychologists to practice across state lines, was passed.
– S.B. 713, clarifying that inmates in the custody of the Commissioner of the Division of Corrections and Rehabilitation receive basic good time unless expressly excluded, and more relating to inmate good time, was approved.