By Lyra Bordelon
The Alderson Community Center will soon become the new Alderson Elementary School thanks to an $11 million investment from the School Building Authority and Greenbrier County Schools.
Talks for the community center have been ongoing for some time, but on Monday, April 19, the Greenbrier County Board of Education formally announced the project and secured its funding from the School Building Authority of West Virginia.
"Today is great day to be in Alderson, it's a long time coming," explained Chief School Business Official David McClure. "We are very, very excited to be here. We think the innovation of this project, along with the adaptable reuse really lent itself to the final outcome from the school building authority. [They granted] Greenbrier County Schools the funding necessary to accomplish that."
Greenbrier County Schools learned of the Authority's decision and announced it to the public on Monday.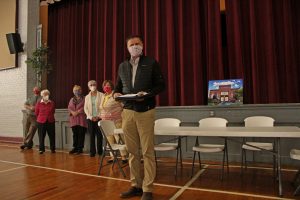 "The authority granted Greenbrier County Schools $8 million and the school system is going to contribute $3 million, for a total of $11 million here in the Alderson Community Center," McClure explained. "There were 28 counties that applied for funding from the School Building Authority, $206 million in requests. This project ranked 4th out of 28, so we were very, very pleased it ranked so high."
Now the funding will bring the former Alderson High School, current Alderson Community Center, and future Alderson Elementary School to life for students once again.
"I think it's just a great thing for our kids, our families, and our community because that building has been through a lot, and it's in the flood zone," said Alderson Elementary School Principal Ian Miswanel. "I just think it's all going to be phenomenal when it's all done. I think people see what's here right now and they just think it's going to be the way it is – when it's done, they're going to find out it's the showcase of the county."
Although today is an important step in securing the building, the project still has years to go.
"Where do we go from here now that we've secured funding? The first step of the process is to advertise for an architect," McClure explained. "We hope to have a recommendation for the board to approve in June. From that time, it's about six to nine months for them to develop a plan. … We probably will look to bid this in January or February of next year. Then, from that time, it's probably an 18 to 24 month period. Sometime between early 2024 or fall 2024 is when we anticipate the project being completed."
Thanks went all around for the many parties involved in getting the plan in place, including for the Alderson Community Center Board, Superintendent Jeff Bryant, Christy Clemons-Rodgers, David McClure, the Board of Education, Alderson Mayor Travis Copenhaver, and many more.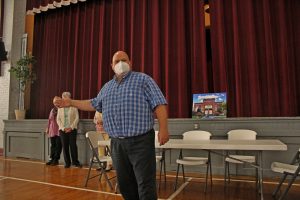 Copenhaver also thanked the staff of the school.
"You all touch lives everyday, from my kids, the kids before, to the kids of the future, and we owe you all a debt of gratitude," Copenhaver said. "You guys deserve the showcase this is going to be. Please none of y'all think about leaving Alderson because you make a big difference, more than me or any other member of my administration can, because you all shape the future. You do it everyday with passion. … We're all going to be proud of what's coming out of this."